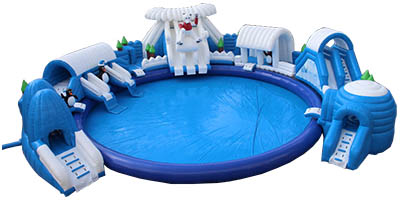 Now it's the high season for inflatable industry, many people are beginning to plan their summer amusement park business and inflatables replenishment. If you want to open an inflatable water park and start operation in summer, then it's your time to order the inflatable water games. Whether you are experienced or not, with sunjoy inflatables you will find create your own unique water park has never been easier! We are professional manufacturer of inflatable products, no matter you want a land operated water park or a floating water park, we have great solutions for you.
There are so many selections of water park games for you, include the air constant inflatable water slides, above ground inflatable pools, floating water games, water obstacle courses, inflatable islands and so on. Your customized water park can include as many water games as you want, each part of the water park should be unique and give your customers the thrill of a lifetime. The water park is a great fun place for the whole family, so the design of inflatable water games should suitable for kids and adults. So the design of your water park not only has the giant water slides and extreme obstacle courses, but also has family-friendly bouncers and smaller slides. According to your budget and scope, we can create a mobile operation or a stationary seasonal water park for you, in any shapes and sizes.
Then how to start your water park?
If you like a land operated water park, you need to measure the usable area, and we will give you several designs first. The normal design of land water park includes giant water pools (inflatable pool or frame pool), water slides, obstacle course and other pool floats. Increase or decrease the water games according to your area. You place should be large and flat to set up the inflatables, and must be a dedicated source of electricity and approved water. The inflatable surface can be printed with your favorite theme, your company logo and business banners.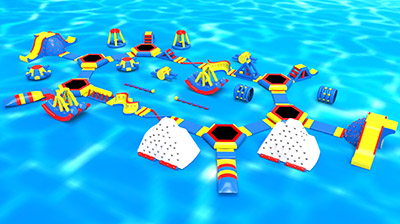 If you want to create a water park on the large water surface such as the sea and lake. Then you can make the aqua park as large as you want, depending on your budget. Our engineers will also make some water park designs for you, you can custom the size, area, capacity, water games and others. The common floating water park includes several routes with different challenge levels to suit kids and adults of all ages. There are so many water toys that you can play in the aqua park, such as the water trampoline, giant iceberg and slides, different obstacle courses, water catapult blob jump, inflatable wheels and so on.
How much does it cost to build a water park? The cost depends on your water park size, number of inflatables and the inflatable materials you choose. Sunjoy is a big factory of inflatables, all details of your water park can be customized as you like. Our goal is to help you create a great unique water park experience, maximize your customer's fun while maximizing your profitability. We would like to work with you and make sure our designs meet with your requirements ans exceed your expectations!