When you are planning a large scale event for your organization, you will be more worry about the event entertainment and want to do the best you can. Today, sunjoy inflatables will introduce to you two new design of inflatables that can bring tons of fun for your events. With sunjoy inflatables, no matter you are planning business events or fun parties, we have creative ideas for you to entertain all your guests and visitors.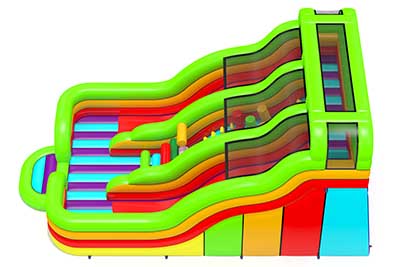 The Unique Inflatable Obstacle Slide
On many occasions, inflatable slide can be the main amusement ride for both kids and adults, whether wet or dry. This inflatable dry slide is a new design product at sunjoy. Why is it so special? First, it's three lanes design, two slide lanes on both sides as usual, but the middle climb lane is special, not the normal climbing steps, but a lot of fun obstacles for climbing, players can grab the obstacle pillars and other blocks to climb up this 20 feet tall inflatable slide. It's not only fun for sliding, but also fun for climbing. Also, this inflatable slide lanes are wavy design, not the common straight slide lane, much more fun than other slides. Designed with multiple bright colors, very eye-catching and attractive for your guests and visitors.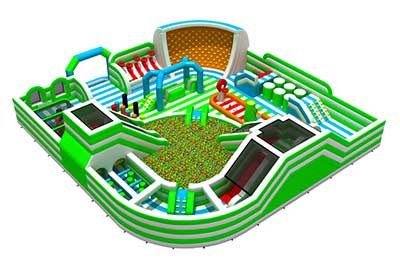 The All-round Inflatable Playground
On some special occasions, you might think that if you can custom an inflatable playground with all games you can imagine suitable for guests of all ages, and that would be much better. This new design all-round playground can meet your needs. How many inflatable games can you imagine that an outdoor inflatable playground for kids should have? The climb and slides, basketball games, rock climbing wall, obstacle courses, tunnels, ball pit pool, bungee run and other fun jump games. This all-round inflatable playground have all of them. You don't have to worry about that your selective inflatable can not entertain all of your guests or some of them being snubbed at your party. Everyone can find an interesting game inside this large inflatable amusement park. You will be so proud that you keep your guests and visitors entertained for hours with only one inflatable equipment.
At sunjoy, all the inflatables can be customized with many types of features to provide different level of entertainment, kids and adults can have a new level of interactivity and enjoy the inflatable experience. We provides dozens of configurations for you to custom your unique inflatable, suitable for any theme of the events and occasions. Whether you are running party rental business, event company or amusement park, you can find the perfect inflatable games from sunjoy.
We will update our new design products from time to time, you can fine or custom the newest inflatable at
www.sunjoygz.com/new-design/
. We are willing to help you make a success in the party rental business or increase traffic at your great events. If you want to learn more about the creative inflatable products, reach out to sunjoy inflatables and order a custom inflatable for the upcoming spring season.