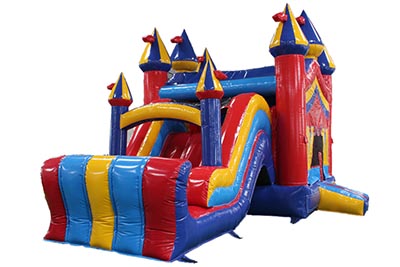 Nowadays, it's very easy for parents to
buy a bounce house
on the Internet. But some people may worry about the durability and safety before they see and check the inflatable products. So we suggest that you can buy a commercial grade inflatable bouncer directly from the manufacturer. A great bounce house can take your summer party to the next level so that both kids and adults can enjoy their time. Since a commercial bounce house is a little expensive, so you can consider about the following aspects to choose the best inflatable bouncer for your kids.
1, Bounce House Style
The inflatable bounce houses are big and colorful toys for the kids, so that they must be very attractive. We manufacturers have designed a variety of different themes such as the animals, cartoons, movies, cars, jungles, castles, pirates, etc. So when you are looking for a bounce house, it's necessary that you are clear with what type of inflatables you want. Is it used for your child's birthday party or your backyard daily use? When you have a theme for your party or event, you can buy a bounce house that meets the special theme. Otherwise according to your child's preference.
2, Bounce House Quality And Safety
The safety much be the number one priority of a kids bounce house. No one wants to buy an inflatable bouncer that will only cause injuries. Good quality means durable and safe. If you maintain and clean your bounce house after each use, the inflatable jumper should have no problem and last longer. Contact the manufacturer, you can speak your requirements and they will tell you what materials they use and how safe they design for your bounce house.
3, The Size of Inflatable
We know that the bounce houses have different shapes and sizes, so you should measure your place first before you make a purchase. If you want to set it up in your backyard, you need to tell the supplier whether there are trees and big rocks in the backyard, because the sharp items can puncture the inflatables. Besides, you should also consider how many children will use your bounce house at a time. Large inflatable bouncers are good for big party and more children.
4, Bounce House Price
I hope the price is not your bottom line for your kids bounce house, because prices are related to the quality. Better material comes with higher quality and price. Cutting cost to buy a low quality inflatable is a waste of money as well as dangerous for kids. If you need a bounce house for less frequent use, you can buy a residential bouncer, it's much cheaper than a commercial bouncer. If you don't know which one is suitable for you, you can tell us your budget and criteria, Sunjoy Inflatables always has a selection for you.
Buying a best bounce house is a wise investment for your kids entertainment. High quality is a must for the safety of your kids, and the children would like to bounce all year round not just on their birthday, the best bounce house can be frequent used for long and avoid to waste your money. A best bounce house can take all things into consideration, and that's what we do to design and manufacture inflatable bouncers.
Contact sunjoy
to get a reasonable price to custom your bounce house today!