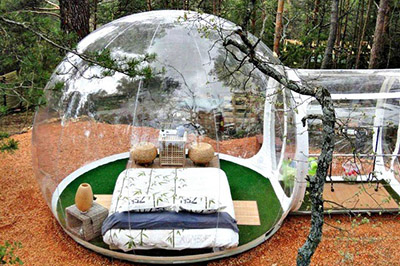 On weekends, camping is a great experience for the whole family to enjoy the beautiful and quiet outdoors. As an experienced modern camper, you should know the inflatable tents have become a cool camping equipment and where to buy a high quality inflatable camping tent for your events. When you go to the woods deep in some remote area with your family, a great inflatable tent can give you the best experience.
When you choose your inflatable camping tent, think about what you would like the tent to be for. Is it used for sleeping at night or just for storing your items? And how many people will sleep in this inflatable tent? When you know what you want to do with your inflatable camping tent, it's much easier for you to choose the suitable one. For example, you can choose a large size that can accommodate many people, the big inflatable tent just like a comfortable house for your family, can be hold up for a very long time. There are different styles of inflatable tents on the market to meet your camping needs.
Where you can buy an inflatable camping tent?
When it comes to the camping equipment, many people will think of the camping specially stores. These stores provide a lot of camping items, including inflatable tents and more traditional tents. So they may not have as many inflatable camping tents as the specialty inflatable tents stores. Some of the large shopping malls will also have retail stores selling inflatable camping tents, but it's not recommended to go to the mall first unless you know exactly they provide the right products you need.
The most convenient way is to buy online. All of us know that we can pretty much find and order anything online. You can choose a variety of inflatable camping tents from the large retail websites like Alibaba or Amazon, or you can just go to the manufacturer's online store. Talk to the makers and they will help you choose the right tent you need.
How to get a best price to save money?
You must understand that a good inflatable tent won't be super cheap, the price depends on its material and features. But you can get a fair price which is not higher than the average prices people have on the market when you look into them. Compare the prices of manufacturers and middlemen or retailers, and ask the material details to help you make your decision. Please remember, super cheap product not means best product, sometimes you may have to replace it and eventually it costs far more than the more expensive inflatable tent.
Another benefit of buying from a manufacturer, your inflatable tent will usually comes with a repair kit. If you don't drag your inflatable tent through brush or other rough terrain and use it right, you will hardly to use this repair kit. But you still need one just in case.
Thanks to the Internet, you can easier to get a good quality at the best possible price. You can make your search for different manufacturers and suppliers, once you have some options, check their different products and compare the prices. And finally, you can find a perfect supplier that can give you the best in both price and quality.
Inflatable camping tents
can provide you just the right level of comfort in outdoors. If you are looking for your inflatable camping tent right now, talk to Sunjoy Inflatables and get your best selection!