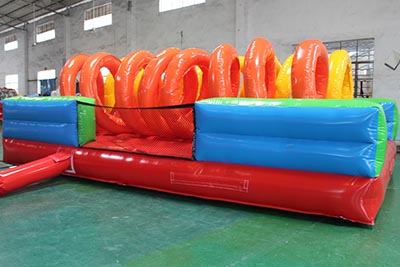 Inflatable obstacle course is a very popular party game for little kids, especially in summer, just like the bounce house. They are very fun and safe, parents never have to be worried about the kids getting injured while playing on the inflatable obstacle course, unlike the real challenging obstacle courses, the inflatable obstacle courses are made of soft PVC material with great bouncing effect, so that give the children a well-protected playground to have fun with friends. If you are considering to plan an inflatable obstacle course event for the children, the following are a few tips may help you make your decision.
1, The participants age group.
Though the inflatable obstacle courses like the bouncy castles are suitable for a wide range of children, but it would be wise to consider the children's age group before you buying one. Huge inflatable obstacle courses are usually designed for older children or teenagers, they have challenging obstacle games which are a little difficult for little kids. And you should consider the children's size to choose the right size of inflatable obstacle course. The inflatable manufacturer Sunjoy Inflatables company has various designs of inflatable obstacle courses that suits different age groups, you can find a great solution for your event.
2, Your setup area.
Where do you want to hold your event? Indoors or outdoors? You must consider the specific size of the open space to place the inflatable obstacle course. In general, if you want to set up the inflatable obstacle course indoors, then you will need a small-sized inflatable structure, on the contrary, the larger inflatable obstacle courses can be placed outside. Follow the inflatable safety rules, do not inflate the large obstacle course in a small space.
3, Wet or dry inflatable obstacle course.
More and more people like to go to the water park in summer, so the inflatable obstacle courses also have some designs are used for water. If the summer day is too hot and you want to cool off the children, the a wet inflatable obstacle course is your best choice. You can choose the wet inflatable obstacle course that can be used in the pool or in the backyard. Pool inflatable obstacle courses are fun floating water games, and the land-used wet inflatable obstacle courses are designed with splash pools and water misting system, like the inflatable water slides.
4, Your party or event theme.
If you are planning a birthday party for your child, then you should select an inflatable obstacle course with a matching theme and design. For example, the pirate theme adventure playground, sports theme obstacle course, or animal theme obstacle tunnel, etc.
5, Your budget.
Almost every factor revolves around your budget. How much do you want to spend on the inflatable obstacle course determines what you will be able to get. The commercial inflatables are considerably expensive, and larger one is more expensive than smaller one. So, if you want to buy an inflatable obstacle course or other inflatable bouncers, proper budgeting and considerations are necessary. If you only have a small budget, you may not be able to afford one, it's recommended that you can rent one applicable inflatable obstacle course for your event.
The above are tips for you to buy inflatable obstacle course for kids. If you want giant inflatable obstacle courses for your rental business or corporate team building events, you need to choose the large challenging inflatable obstacle courses which are designed for adults. That are much bigger than the kids obstacle courses. Get in touch with sunjoy to get a reasonable price today!