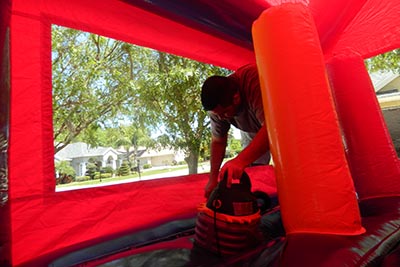 No matter you are the inflatable bounce house rental business owner or just someone who have a bounce house, you can clean your bounce house regularly to make sure the users have a good experience. All parents would like their kids to play and jump in a safe place that is also clean. As an inflatable rental business owner, the cleaning is a most important part that makes you stand out from your competitors. The more you do for your customers, the more satisfied customers are, and the more profit you will get.
Let's talk about how to properly clean a commercial bounce house. It's very simple and won't take up too much of your time.
1, Most of the inflatable bouncers are colorful with beautiful printing, the improper use of cleaner may cause some damage of the printed surfaces. So you better ask the manufacturer or supplier of your inflatables for the recommended cleaning formula first.
2, You must cleaning the
inflatable jumper
when it's inflating. Walk in the commercial bouncer, sweeping off the small particles left like candy wrappers, leaves, grass and dirt. Clean everything you can see.
3, After you clean all the debris and other particles, you can now start sanitizing it. Sanitizing is another process for the inflatable bouncy house, but it's also very important because of the bacteria, viruses and molds, you can not see them, but they may be present and can not be removed by simple cleaning. Little children may get sick due to the presence of bacteria, so you must make the parents believe that their kids are safe in the bounce house.
4, Check the entire inflatable jumper and make sure all parts are sanitized, then use the recommended cleaning formula to spray the surfaces of the bouncer and wipe it off with a soft cloth. If you use the water to clean the stains, use a dry cloth to wipe the bouncer again.
5, Standing for some time to dry the inflatable bouncy castle, if you are cleaning the wet bounce house combo with a water slide, it must be fully dry before you take it down and roll it up to store. Leaving inflatable wet will cause the accumulation of molds and mildew, your cleaning is done in vain. In addition, the molds and mildew will also cause bad smells and damage the surface of your inflatable jumper.
Proper cleaning can help your inflatable house last longer, here are few more helpful tips for you to maintain your commercial jump house.
1, After each use, remember to check all the seams to make sure that there are no holes or other damages, if you find a small hole, repair it as soon as you can so that it would not lead to further damage. Here are useful tips about
how to repair common damage of bounce house
.
2, Always follow the use rules to ensure the safety of kids and inflatable structure. Read the manufacturer manual and control the number of children and total weight.
3, Choose a suitable place to store your inflatable units, there should not be too hot or too cold, dry and clean and without rodents and other pests that can destroy it.
Kids jumping for house inside a bounce house, leaving the laughter and sweat, the bounce surface may be a breeding ground for bacteria and viruses, so cleaning and sanitizing are necessary to keep the little children healthy. Besides, the clean and presentable inflatable units will also reflect the quality of services offered by your business. If you provide good services to the customers, it can lead to more customers in the future.