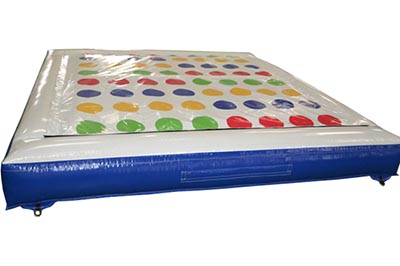 If you want to throw a swing party in summer for yourself, not specially for the kids, the giant inflatable twister game is your perfect option. In addition to the common bounce houses and water slides, the interactive inflatable sport games are the best choice for your backyard parties. And some people must have heard or played twister games with friends, it's so much fun and unbelievable, you and your friends can must have a good time. But the traditional twister is so normal that can not be able to make your party attractive enough, here is a giant inflatable twister for you.
Like other inflatable bouncers, you can always rent or buy an inflatable twister game for your parties and events. So of course, when you set up this giant inflatable twister in your backyard, you and other participants need to take off the shoes to go in this big air mattress. It's so huge that everybody can join in your game, so there is no excuse for people to sit on the sidelines, although sitting on the sidelines and watch other people play can be pretty entertaining too.
When you start playing on this large inflatable twister mat, you will find that there is a huge advantage over the traditional twister game. Your experience can be more comfortable. when you do fall over, which of course you will, it's not a question of "if" but more a question of "when", when you do fall over you won't land in a heap onto the ground, you'll land in a heap onto the soft and springy air mat. The inflatable twister game provides you with a full range of protection, so that you can be more adventurous and don't have to worry about hurting yourself.
The giant inflatable twister mattress has a series of colored dots, players must use their hands and feet to touch the colored dots, just like the traditional twister game. According to the size of your inflatable twister game, it's suitable for up to 10 players at a time. A giant wheel comes with the giant inflatable twister too. When you spin this wheel, it will tell each participant which colored dots they need to stand on or put the hands on. The wheel will not only tell you which color but also tell you which part of your body you must use to touch it. It may sound straightforward initially, but as the game progresses, it does get more and more difficult.
It's so funny to watch each player try their best to twist their body, similar to the stick insect. The experience of the participants are so great as they move around trying to touch the nearest color with their hand or foot. The last player who persists until the end is the winner. When the game is over, everyone feels exhausted and happy. That's what this game brings to your party.
If you want an inflatable twister game for your party, get in touch sunjoy today for a preferential price. We also provides a various of interactive inflatable sport games for your events, such as the
giant soccer dart board
,
Leaps N Bounds inflatable
,
Hippo Chow Down inflatable
,
last man standing inflatable
, etc.