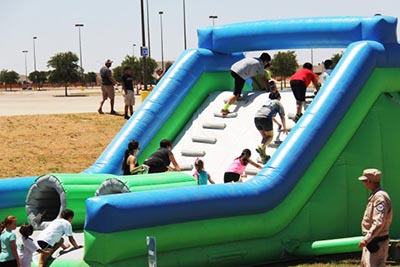 The giant inflatable jumping bouncers are always the most important part of any party or event. At Sunjoy Inflatables, you may have seen our list of different
commercial inflatables for sale
, but now you might just need a good reason to throw your inflatable party! The following are several great excuses for you to throw a party that simply need an inflatable bouncer.
1, A birthday party
The best answer to when to rent a bounce house or jumping castle is that a child's birthday party. When it comes to the kids birthday parties, most of the parents will prepare to rent a bouncy castle. Why is that? In addition to the kids love to bounce, an inflatable moon bounce is also a great way to keep the active kids entertained for hours during the party, and the parents or party organizer don't have to spend a lot of time planning different activities for the children. Moreover, the inflatable bouncers have many different combinations and styles to match different needs and themes of your child's birthday party.
2, Summer camp activities
Summer camp is a very popular activity for schools, the counselors and teachers will plan a variety of outdoor activities for the kids. But sometimes they might have no new ideas of how to entertain the kids. Then you can come to the inflatable rental stores. In the hot summertime, a splash party day is a great idea to make your summer camp more attractive and exciting for both little boys and girls. Rent an inflatable slide with a super long slip n slide from your local store, or add an extra inflatable swimming pool for the giant water slide, this is not only fun for everyone, but also very convenient for counselors.
3, Wedding
Although the inflatable bouncers are not very common at the weddings, but they are a great entertainment addition to any outdoor wedding. Adults can play bounce house too,
a bounce house party will make your wedding more unique and memorable
. If there will be children attending your wedding, you also have a nice place to keep them busy. Additionally, after the stressful wedding ceremony, you and your other guests may also want to relax and enjoy the fun inflatable games, so you can rent a variety of interactive inflatable games for your wedding. The suits and wedding dress won't get in your way to have fun!
4, A community party
Summer weekends are a great time for you to plan a community party, the weather is nice and the backyard is great for families in the neighborhood to hang out and have a BBQ. Inflatable equipment is awesome game to entertain the kids of all age. A great suggestion for this community party is inflatable obstacle courses and other interactive games such as inflatable twister. This kind of inflatable games are not only fun for the participants, but also very entertaining for the people watching.
Inflatable bouncers are the most popular games for all parties and events, when you want to have fun and throw a party, just rent any creative and fun inflatable you found in the store. Sunjoy is an responsible commercial inflatables manufacturer, you can find various of different inflatable games or custom your unique inflatables, no matter what you want, you can get ideal solution here!