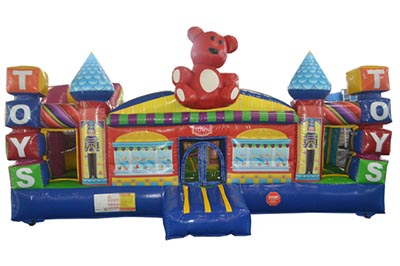 Summer is coming, we are seeing many families renting an inflatable bounce house for their parties and events. Though more and more people are using giant inflatable bouncers, however, some of them think the inflatable jumping houses are the common toys that they can just let their kids play. This is not correct! As a professional commercial bounce houses manufacturer, Sunjoy Inflatables are fully committed to the safety of all
inflatable bouncers
. When it comes to the children entertainment, the safety is always more important than fun. We are convinced that kids must need to be supervised while having fun inside an inflatable bouncy castle.
We tirelessly remind our customers to pay attention to the safety when using inflatable equipment, and we are happy to see that many users improved their supervision efforts to make sure their parties go without any accidents. Each inflatable we made has a set of safety rules posted on the front side of the inflatable to remind all the users to have fun properly. These might be a little simple but are the most important rules, so we ask you again to read and enforce them, especially for those who are using inflatables for the first time.
Rule number one, no shoes inside. Shoes are hard objects and you may knock other kids with your shoes when bouncing, unsafe for others. Also, the risk of twisting an ankle with shoes on is much greater compared to with shoes off. Moreover, if kids walk in the bounce house with shoes, the dirt that comes with their shoes will make the soft bouncer not such a clean place to play, and it will take you extra time and money to get it clean.
Rule number two, no sharp objects allowed in. The sharp objects include your keys, jewelry, eyeglasses, watch, earrings, large hair barrettes, belts, and other similar accessories. These sharp objects is a risk to all the players and the inflatable.
Rule number three, group the kids by their size and weight. Kids of different size and weight can not bounce together at the same time because the smaller kids can fly into others or the walls when the bigger kids bounce. Supervisor must take responsibility to make sure there is no significant difference between kids size and weight.
Rule number four, no rough play. The little boys and girls are usually naughty. Pushing and rough wrestling usually get out of control so an adult supervision is required all the time.
Rule number five, bounce house can not be used wet. If the inflatable jumper is not designed with a water slide, it needs to be dried before it is used because the wet floor makes it more slippery and increase the risk of injuries for all users.
Rule number six, inflatable gladiator jousting, boxing and sumo suits require proper protecting gear. Face masks must be worn by both users.
At last, if you are the supervisor of a bounce house at the party, and you have to leave the inflatable for a short period of time, please remember to ask another adult to watch the kids for you. We want to see only happy faces at the end of your party. So let's read and understand all the safety rules to make your bounce house a safe place to have fun! More bounce house safety please visit https://www.sunjoygz.net/four-measures-to-keep-kids-safe-when-using-a-bounce-house/.