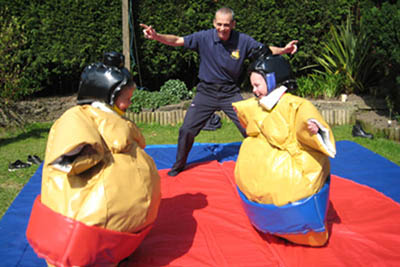 Sumo wrestling game is very popular for children's birthday parties nowadays. Parents always try their best to bring more fun to children on this day. And no other games are funnier than watching two fat guys jump on each other. Participants need to wear an inflatable sumo suit to play this game. This sumo suit makes children look like a fat sumo wrestler and provide them great protection. When you are planning to hold a sumo wrestling themed party for children, here are several things you may want to know.
1. How long does it take to wear the inflatable sumo suit?
The fun inflatable sumo suit looks like a big heavy vest after inflated, so you can put it on just like wearing a giant vest, use Velcro fastened. And then put on the helmet and gloves. This process may take you one minute at the first time. But when you get used to it, you can complete wearing and undressing in one minute. Therefore, you can help the little sumo wrestlers to get off the suits and the next two children to get on in one minute and leaving more time for posting and fighting.
2. How much space does a sumo wrestling game need?
For the children's birthday party, it's always require a flat space for the entertainment, whether it is a bounce house or a sumo wrestling game. For a regular sumo wrestling game, the size of our sumo mat is 5x5 meters, but if you want to set up an inflatable fighting ring, the size of this inflatable arena can be 5-8 meters. But a space only for the sumo mat is not enough, you must consider the blank space for surrounding bystanders. So you must have a flat space in the backyard that is large enough for a bouncy castle or a sumo wrestling game.
3. Are the sumo suits suitable for all participants?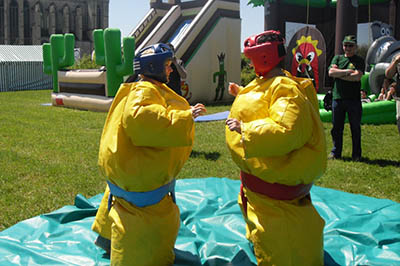 These inflatable sumo suits come in two sizes, 1.1 meters for the children and 1.6 meters for adults. It's hardly to get the most suitable suit for each wrestler according to the height. When you hiring an inflatable sumo wrestling game for your party, tell the rental company whether this game is for kids or adults. For the children who are a little fatter, this regular sumo suit may feel a little tight.
4. How long should your sumo wrestling game last?
The fun time of this sumo wrestling game depends on the number of children, you will know when to end if no one wants to play. But for the children, the first 90 minutes are very important. Because they are focused and energetic. But after that, younger kids will start to run around and the little sumo wrestlers will respond to the game rules more relaxedly. Parents may be able to use this time to let the children pose for photos since the enthusiasm subsided.
5. How to control the sumo wrestling game?
Before you get start, you should have an official sumo referee (also called gyoji) to control the crowd and games. Kids need to be told how to play on the sumo mat and when to end a round. And the gyoji should control the time of each round according to the number of people in line. When a sumo fight is in progress, the other kids should keep discipline and sit down at the side of the mat supporting their team. In addition, gyoji should also sort out the teams by height so that everyone has the best chance of a good fight. Younger kids challenges to bigger kids are not allowed.
Watching children wear inflatable suits to have a funny fight is very interesting. In addition to the sumo wrestling, you can also choose inflatable boxing or gladiators fighting for your child's birthday party. These interactive games are so much fun and makes your party more unique and memorable. Contact Sunjoy Inflatables to day to buy the brand new inflatable fighting games.