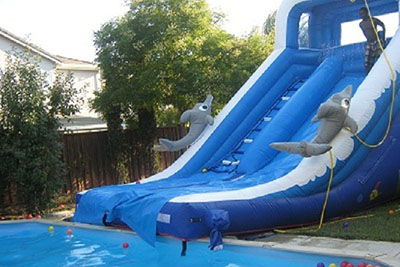 In hot summer, people go to water parks and enjoy the thrills of water slides. The metal constructed pool slides are more common in the big amusement themed parks, they are more expensive and not easy to install. Therefore, these metal pool slides are not the ideal choice for our backyards. Inflatable water slides are affordable and portable for family use, they are sturdy, durable and safe, easy to inflate, deflate and store. If you want to make your backyard into a fun water park in the warm seasons, inflatable pool slides are now very popular.
Here are a few things you need to know before you buying your own inflatable water slides.
1. Different sizes and designs
With the development of inflatable slides, they are available in different sizes and different shapes. To choose the most suitable inflatable water slide, you must need to know what people are going to use this water slide. Different inflatable slides are designed for different age groups. For example, parents sometimes can use a commercial inflatable water slide, but they should not be over the weight limit if this inflatable slide is not for adults. Depending on your needs, the inflatable water slides can be single lane, double lane or multiple lane. You can also choose a particular theme for your slide, such as jungle style or Ice World theme. Nothing is more fun than sliding and splashing into a cool water pool on a hot summer day in your backyard.
2. Required space
Inflatable water slides are usually installed outdoors, so you need to make sure you have enough space before you buy one. The size of inflatable water slide is determined by the number of children who will be playing on it. If you choose a large inflatable water slide for the backyard, you should prepare a sufficient space to place it. Include the inflatable slide and splash zone. If you want to buy an inflatable slide for your in-ground pool, a flat space near the pool is fine. But if you want to set up an inflatable pool for the slide, you have to consider the whole size of inflatable water slide and inflatable swimming pool.
3. Material and craftsmanship
Commercial inflatable water slides are manufactured with a thick, strong PVC tarpaulin, the material should be identified as waterproof, strength, high density and fire resistant. They are very heavy, in general, you can think that the heavier the slide, the better the quality. In addition, you should also ask its craftsmanship. How many air chambers does this inflatable water slide have? The more air chambers, the more flexible strength and stability. Also, multiple chambers can be more resistant to damage like a leak or puncture. Therefore, don't be afraid that the inflatable water slide is too heavy for you to handle.
4. Costs
Buying a large commercial inflatable water slide can be costly, so you need to think of it as a long time investment. Therefore, maintenance and repair should also be considered. A good manufacturer will generally provide a 3-year warranty, if they don't, the quality of inflatable water slide may not be as good as they say. If the inflatable water slide is going to be used regularly in each warm season, then surely buying is your best choice. But if it is not used very often, renting may be a good option for you. You can enjoy many different styles and designs without having to invest so much in the first place.
At last, keep safety in mind at all times. Whenever you set up an
inflatable water slide
in the backyard, adult supervision is a must. The inflatable water slides and pools can be very slippery and you never know what might happen. Inflate on a flat open space, secured on the ground with steel stakes, follow the safety rules to play and do not leave the kids alone on them. Now you can easily contact sunjoy to buy an inflatable water slide and bring kids hours of fun in summer.