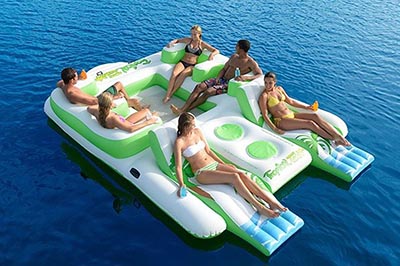 In the hot summer, people will find many ways to cool off, some people love swimming, some people love boating, but there are some people just want to relax on the water. Therefore,
inflatable pool floats
become a popular way to beat the summer heat for people in the swimming pool who don't want to take a swim. When you floating on the water with your eyes closed, you can feel very relaxed, it's known a healthy way to reduce stress and anxiety. That's why inflatable pool floats are more and more popular for modern people.
The advantages of inflatable pool floats
1. Beat the summer heat effectively.
The inflatable pool floats are designed for people to floating on or in the water, different designs with different buoyancies. So you can choose your own pool floats to sit or lie down in a natural position, floating on your swimming pool or half floating in the water. Supported by the inflatables without fully submerged. You don't need to have any movements to keep yourself floating but you can feel the cool water.
2. Enjoy a drink on the water.
Just like you are lying under the sun umbrella on the beach, you can also enjoy your summer beverages while lying on the pool floats in your swimming pool. Some designs of the inflatable water floats offer you a safe place to put your beverages so that you don't have to come back to the hot concrete pool side.
3. Help you swim.
The most common pool float is a swimming ring. If you are a swimming beginner or just want to enjoy the swimming effortlessly, a swimming ring or other inflatable floats can help you be like a duck to water. Swimming is a very good exercise, and this exercise is the only one won't make you sweaty but feeling cool in summer.
Different designs of inflatable pool floats
1. Floating lounge.
This type of inflatable water floats can be single person or multi-person. Most of the body is above the water surface so you can keep your body dry if you want. It's like a floating island, you or your family can sit or lie down or stay in any position, you can even read a book or play your phone on the water with this pool float.
2. Floating hammock.
This type of inflatable water floats are not like the lounge inflatables. You will remain suspended in the water while lying on the float, most of your body will be beneath the water surface and your head remain above the water. This is a great pool float to keep you semi-submersed without worrying about being in a proper position, it's not very good for tanning purposes but very enjoyable.
3. Other floating inflatables.
In addition to the regular floating mattresses, you can find many fun shapes of inflatable water floats for you to enjoy the pool. For example, a giant inflatable duck, flamingo or unicorn, rocking chairs, tea cup spinners, etc. This type of inflatables are very attractive for both children and adults.
Inflatable pool floats are usually very affordable, before you make your purchase, you should know where you want to use it. The inflatable pool floats should not be too big if your swimming pool is not large enough. After use, the
inflatable pool floats should also be proper maintained
for the next day use. If you want to buy the high quality inflatable pool floats for multiple seasons use, it's better to choose the commercial grade. Sunjoy Inflatables have a variety of commercial inflatable water sports, pool floats, water park games wholesale at affordable price now!