For most new beginners, they are more likely to make some mistakes when hiring an inflatable jumper for their great birthday party or special event. Making mistakes not only wastes time and money, but the worst can even ruin your party. Therefore, every beginner should learn from the mistakes of others and save you lots of stress when planning an inflatable party. Here are some common mistakes most people make.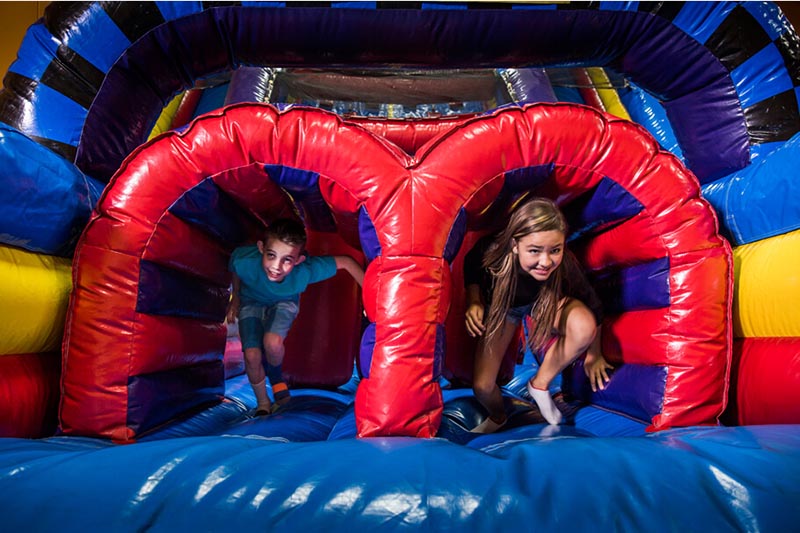 1. Selecting the cheapest inflatable rentals
Just like with any other industry, there are different prices of inflatable rentals in the market. Some people just think that the cheapest supplier may be the best because they have no idea what's the difference between party rental companies. They may not know what customer services are needed for a party to be held smoothly in addition to delivery. So we list some things you might not have thought about to help you choose the best party jumpers supplier.
A) Inflatable Range
Does the party jumpers rental supplier have various inflatable bouncers for different parties and events? The inventory of an inflatable rental company represents the strength and professionalism of the company. So that you can not only choose the latest bounce houses, but also hire professional party supervisors. Can you trust a rental company with only few small party bouncy castles?
B) Storage
A professional party rental company with over 100 inflatables will require vast amounts of storage space. The inflatables should be stored in a dry and clean environment to avoid damage, mold, stink and get dirty. You can see where they store their inflatables before you make a decision.
C) Maintenance
A responsible party jumpers rental company cleans the inflatable bouncer after each use to prevent children from getting a bacterial infection. Clean bouncy castles make it easier to make a good impression on your guests. In addition, they will inspect and repair all their inflatables regularly to make sure the party jumper you receive is in good working condition. You don't want to get a dirty or damaged bouncy house at your child's birthday party.
D) Insurance
Does your bounce house rental company have any public liability insurance on the inflatables and equipment? It's very important to have your party jumper insured because there are other children who are bouncing at your party. Safety always comes first!
E) Service
How easy is it to contact your supplier? Do they answer your phone immediately? Do they have experienced staff to answer your questions? Some people are renting out their bounce houses at weekends as a part time job, operated by only one person and they can't even give you professional advice about bounce house size, space required, weight limit and so on.
All things above cost money and you know why it is not recommended to select the cheapest inflatable rental supplier. Remember to ask them
questions
before you place your order.
2. Not shop around
Most people know that if you want to buy the best you need to shop around. If it's your first time to hire a party jumper, then you'd better to call several companies and ask them some questions before you choose the best one. When you have all of the information at hand, you will be aware of that the best inflatable rental company can not only help you distinguish the most suitable inflatable, but also help you select all you need for the party.
3. Thinking the bigger the better
Some people may think that the bigger the bounce house, the more fun the children have. This is not always right. For example, toddlers will not think that a tall climbing wall that can't climb is fun. Therefore, the first thing you should ask yourself when hiring a party bouncer is who will be using it. Consider the participants' age group is more important than saving money. You will waste your money if you hire a big and intricate inflatable obstacle course if most children are aged between 1 year and 4 years. In addition, you should also consider how many kids will be attending your party and how much space you have for the inflatable before you determine the size of party jumper.
4. Ignore the safety of bouncy castles
Often people only think about the excitement that renting an inflatable bouncers can bring to their party, and leave the safety to the rental company. Sometimes you can leave the delivery and set up issues to the rental company, but it's best you should check the bouncy castle again after installation. Check the weather condition, wire and steel stakes, the ground surface where you set up the inflatable, the adult operator and test the bouncing equipment by yourself. There are more
things you should consider before hiring a bouncy castle
.
5. Not care about the reviews or feedback of the rental company
If you don't want to be deceived by fine-sounding words, one of the best way to know a company is finding its reviews or feedback on the Internet. If someone has had a bad experience working with this party rental company, they might write a review in the comments to let other people knows. You can easily find any company's reviews on their website, Facebook and other social medias. If you don't see anyone says they will come back again, be careful with this inflatable party jumpers supplier.
Read the above common mistakes people make when hiring inflatable jumping castles for your parties and events to avoid making mistakes yourself. Sunjoy Inflatables is a professional bouncy castles manufacturer with over 10 years of experience, we know many developments and trends in this industry. If you have any questions about planning a great event with inflatables, please don't hesitate to contact us.