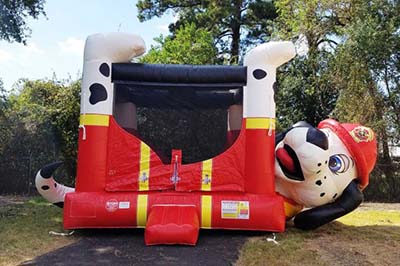 Bounce houses are more and more popular at children's birthday parties, mainly because they are fun and more safe than other entertainment, kids love them and parents feel relieved. Nowadays, both rent or buy an inflatable bouncer is pretty easy. A great bouncy house can not only take your party to a completely new level, they can also keep your kids entertained everyday in the backyard. Therefore, owning an inflatable jumper is the way to go. In addition, you can rent it out or sell it when you don't need it anymore.
Before you investing in a fun bouncy castle for your child, you need to know the types of bouncy house on the market.
1. Residential Bounce House
In general, the residential bounce house refers to the indoor play structure. They are smaller and suitable for kids of younger age groups. So, if you want to buy an inflatable jumping house you can set up in your child's room, searching for the residential type of inflatables. Compared to the bounce houses you rent from the party supplier, residential inflatables are typically made using lighter materials like vinyl and nylon, these materials can be easily damaged by sharp rocks and branches, so it's best you don't use it outdoors.
2. Commercial Bounce House
As the name indicates, these bounce houses are designed for frequent use and will withstand more abuse compared to residential inflatables. They are made of commercial grade materials like 15oz - 18oz PVC tarpaulin, with more reinforcements along the seams and near the entrance. Therefore, they are larger and heavier and can accommodate more children at one time. This type of heavy-duty bounce houses used to be used by rental business or event planner, but today, many family have found that buying a commercial bounce house is a great long-term investment. Read this article to learn
the different between residential and commercial bounce houses
.
In addition to the material and structure, the commercial bouncers have a lot of models for you to choose from. According to your preference, you can opt for a number of features, including inside pillar obstacles, basketball hop, climbing wall and slide, even water slide and small pool. For these comprehensive inflatable bouncers, we call them combo units and inflatable amusement parks.
When you are looking to buy the right bounce house for your child, there are four factors you need to consider.
1. Age Group
Different models of bounce houses are designed for different age groups. So you must take this into account first. You don't want to make a mistake(7.23) that the bouncer you buy is too big for your child. Commercial bouncy castles are not always better if your child is under the age of 6.
2. Size
The factor includes the bounce house size and the available space you have in the backyard. No one will buy a massive bouncing house that is too big to fit in the backyard. Therefore, you need to consider both the number of children and how much space you have when selecting the inflatable model.
3. Budget
High quality inflatable bouncers range in price from hundred dollars to thousands. You will find that there are so many features you like when shopping for a bounce house, slides, cartoons, themes, printings and so on. You will realize it's too expensive at checkout if you don't set a budget first.
4. Warranty
Commercial bounce houses are costly for many families, so the manufacturer's warranty policy is very important. In general, manufacturers will provide a 3-5 years warranty for their commercial inflatables, the longer the warranty, the more confident they are about the quality.
Safety guide for parents
Since you are buying your own inflatable bouncer, so you need to take the responsibility to
keep the children safe in a bounce house
. Here a a few safety guidelines:
1. Keep adult supervision at all times, if playtime is over, deflate the bounce house to stop the kids from sneaking in.
2. Follow all the manufacturer's recommended guidelines. Read the instruction carefully, pay close attention to anchoring and how many children are allowed in the structure at one time.
3. Don't let children of different ages or sizes into the bouncer at the same time. Toddlers are not recommended to play with older kids. And adults should not bounce with the kids even if the bounce house can accommodate adults.
4. Don't let the kids climb on the safety walls, they may fall off and hit the ground.
5. Keep an eye on the weather, inflatable bouncers can not be used in windy or rainy days, so pay attention to the change of weather.
Clean your bouncy house
From time to time you inflatable and deflate your bouncy house, you will find some dirt on the bouncing area. The kids running in and out will track in dirt and debris, so you should use a vacuum cleaner to clean the structure regularly. It's your bounce house now, so it's your job to prevent it from accumulating dust. Read this article to find a
recommended cleaning solution
.
Sanitize your bouncy house
Some parents may worry about the bacteria issues. The sanitizing is also necessary. This process is very simple. Spray the inflatable floor and walls and wipe off the disinfectant with rags. But carefully to choose the sanitizing fluids on the market. Some of them could damage the inflatable fabric. If you are not sure whether it would damage your bouncy house, I suggest you to test it on a small area first.
Dry completely before storage
If you roll up your inflatable bouncer with moisture inside, it will help the mold and mildew to grow and damage your structure. Therefore, when you want to put the inflatable house in a storage bag for a long time, you must make sure the inflatable structure is completely dried. This is usually done after the cleaning and sanitizing. Just leave the bounce house in the sun for few hours.
Be careful when the bouncy house is losing air
If you find your bouncy house suddenly starts to lose air, get your kids out of the inflatable structure as soon as you can. A deflating inflatable jumper could be dangerous. Young kids may be hurt by the heavy roof or hit the hard ground on a downward jump without the support of pressurized air structure. Parents must be vigilant to this situation.
There are more safety tips when children playing in a bounce house, parents must read all the
manufacturer's safety guidelines
before set up an inflatable bouncer. More questions about the inflatables please contact Sunjoy. We hope to help you create a fun and safe time for the children.