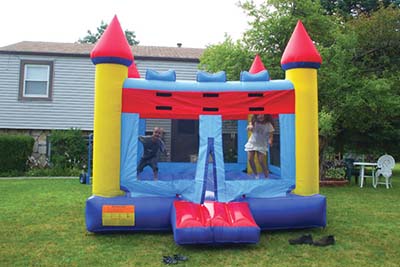 A bouncy house is always a great choice for the kid's birthday party and outdoor entertainment. The safe inflatables will not only provide your child hours of fun, but also get your child more exercise. Although you may have rented a bounce house before, but you may want to know if it's better to buy a commercial bounce house. In this article, we will show you the difference between buying and renting an inflatable party jumper.
The benefits of inflatable bouncer:
1. Get the kids more exercise. Jumping is a strenuous exercise that can activate most of the muscles in the body. Jumping around everyday for the children, can not only increase their hand-eye coordination, promote good cardiovascular exercise, but also burn a large amount of calories to keep the kids away from obesity.
2. Develop children's social skills. Bounce house is not an indoor game, it encourages the children to play outdoors. When children jumping up and down in a large inflatable, it's more fun to run around with other kids. Playing the same game will help your introverted child to make new friends and develop their social skills.
3. Relieve stress. Don't think that children are not stressed. The recent studies appear to indicate that kids feel tension and anxiety too. Is it a better way to let the kids release stress than bouncing in an inflatable castle?
Buying Inflatable Bouncer
More and more people have found that a commercial bounce house is a great investment for the children's entertainment. If you are not sure if this is good for you, please continue reading.
The advantages of buying a commercial bouncy house:
1. Cost-effective in the future
Although you must pay more to buy a bouncy house at first, but in the long run, buying an inflatable jumper will inevitably be cheaper than renting. For example, you need to pay $80-$100 per day if you rent a bounce house, even if your bounce house is worth $1000, it practically pays for itself if you rent it out at weekends for about 10 times. Not to mention you can always sell it once your kids are getting older. Do you know that the used bouncy houses in good condition sell for about 1/2 to 1/3 of the original purchase price? Therefore, take good care of your commercial bouncy castle and you will find it is a great investment after a few years.
2. Your child will be proud
Kids love the inflatable bouncers, but they can not show off to their friends only if they really own one. This may sound silly to adults, but kids take pride of ownership in their bounce house. You know, I can play bounce house everyday but you can only play at your birthday party.
3. You can take it to anywhere
Once you own an inflatable jumping house, things will become more interesting. You can bring your bouncy house to the park, the camp ground or another kid's birthday party, kids can be entertained for hours at any place. If you know that other several families have also brought a bounce house, then you can get together to plan a community bouncing day!
4. Have fun on rainy days
Buying your own inflatable jumper, you can choose a small or medium-sized bouncer so that it can be used indoors like in your garage. Then your kids can have fun regardless of the weather condition. The rental bouncy castles are generally too large to fit inside a house and the company probably won't accept your reservation on rainy or windy days. Blow up your bounce house and your kids will still get fun and exercise.
5. Social benefits
Owning an inflatable bouncy castle will make your child become the most popular one in the community as everyone wants to play with them. The ownership of a bounce house will help your child boost their confidence and raise their self-esteem. If your child is the new kid in the neighborhood, investing in a bouncy house can improve their social circle and make it possible for them to make new friends.
The disadvantages of buying a commercial bouncy house:
While there are so may advantages of buying an inflatable bouncy house, there are still two slight disadvantages. First, you will have to pay the initial cost of the inflatable. For some families, this may be a burden but you can buy it from the Chinese manufacturer to enjoy an affordable price. Second, your kids may have to to play with the same theme for a few years so you must be careful to choose a particular style and theme that your kids won't get bored very quickly. Fortunately, Sunjoy Inflatables has a bunch of great options for you to choose from.
Renting Inflatable Bouncer
Renting a jump house for the kids' birthday party is very popular and I'm sure you are all very familiar with this. Although most families can benefit from buying a bouncy house, the inflatable rental business is still a great choice for parents to throw a unique and easy kid's birthday party.
The advantages of renting a commercial bouncy house:
1. Convenient
Maybe the main reason people choose to rent a bounce house is that it requires no preparation on your end. All you need to do is make a call and tell your requirements. The rental company will set up and supervise the bounce house for you, even more, they plan the party for you.
2. Have a lot of options
You can always choose from a wide range of inflatable bouncers depending on your preference. The large rental company will provide you a wide selection of designs and types. For example, you can rent a bounce house with slide and climbing feature this year and rent a giant slide with ball pit next year. Year after year, your kids will experience something new and won't get bored from playing in the same structure.
3. Enjoy different themed parties
Another notable advantage of renting a bouncy castle is that you can choose the themes you like. No matter you are planning a princess-themed, a pirate-themed, a cartoon-themed or a jungle-themed birthday party, you can always find the right inflatables. Also, the rental company will keep their inventory updated, you may find a newest cartoon character bounce house this year.
4. Suitable for all ages
The rental company also provide a selection of inflatable bouncers that suitable for all ages. No matter how many kids you have and what the age groups they are, you can find the best inflatable games for them. Such as simple inflatable playground for younger kids and challenging inflatable obstacle course for teenagers.
The disadvantages of renting a commercial bouncy house:
1. The cost
Renting a bouncy castle for only few hours at the birthday party is very affordable, but if your child wants to play at every weekend, the total rental costs could be quite expensive. In the long run, it's more recommended to buy your own bouncy castle.
2. The cleaning
Although the rental company will say that they clean the bounce house after each rental. However, you're putting cleanliness in someone's hands. You don't know who used your bounce house and what kinds of bacteria may be lurking around. Therefore, if you own an inflatable jumper, you can control the the children who can get in to play and sanitize it regularly.
3. Time restrictions
You will never know when the kids get exhausted at a bounce house party, it seems that the children have an endless amount of energy in playing. Here comes the problem, when the rental company comes to take back the bounce house, your child is still reluctant to come out. Buying one then you no longer have to worry about the time restrictions.
4. Checking for exciting damages
When you rent a bouncy castle, you will need to sign a contract stating that you'll have to pay for any damage. So you must inspecting for pre-existing damages on the bouncy castle before you use it.
From our more than ten years of experience, parents that
buy a commercial bouncy house
for their children don't regret it. And with the development of new age materials, we keep finding ways to make our durable inflatables more and more affordable so that every kid can have their own bounce house. More questions please come to Sunjoy Inflatables, one of the biggest inflatable manufacturer from China.