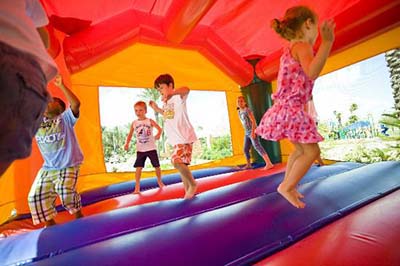 Some people just can't wait to start their own bounce houses rental business after reading some
information about how to start a new inflatable rental business
. But taking action too fast without getting ready would let you make mistakes. As the beginner of this inflatable jumping castle industry, you should be more open-minded and get some proper advice or support from the industry seniors. Fortunately, we have listed 10 common mistakes below, you can learn from the mistakes others have made and avoid to harm your own bounce rental business.
1. Not have a proper plan before you actually start your own business.
Many people just know a limited information about this business by renting a bounce house for their child's birthday party before, then hope to make money by investing their time and money in this business. Being a boss requires more than just lots of energy, enthusiasm and a willingness to work at weekends. What else do you know? Do you know your target customers and competitors in your area? So, it's best to develop a plan for how to make money in the bouncy house rental business.
2. Give your rental business a wrong name.
What kind of name is a wrong name? The name start with a letter like "P" or worst "Z" is not a good name. The first letter should not be very low down in the alphabet because most online and offline directories list the party rental companies alphabetically. Therefore, you should think a name that starts with an "A" or even a number so that people looking to hire a bouncy castle will find your company first. You don't want to miss out on a huge amount of enquiries and bookings, so leave the bottom position to other companies.
3. Give up your full-time job too soon.
Many people don't know that a bouncy house rental business can be a part-time job running on weekends. Although the business can be very profitable, but you don't know how far you can go at the first time. So it's important to keep your full-time job at the beginning of business. As soon as your income from the inflatable rental business reaches your expectations, then you can consider quitting your day job in order to focus 100% on the lucrative bounce house rental business.
4. Hiring an employee before you have a sufficient turnover.
The lobar cost can be one of the largest costs in the small business. You don't want to run a business that doesn't make ends meet. So never hire employees unless you can afford the lobar costs. At the beginning, you can ask your family members for help. When you have more business, then consider hiring a helper.
5. Keep your employees because they are "nice" and "try hard".
You are a boss now, sometimes you have to fire someone to make your rental company better. This can be difficult, but a bad service staff can push your customers to the competitors. Would you hire someone who is not qualified for this job?
6. Only have small bounce house for children.
You should have more inflatable options for your customers. Parents now want more than just a simple bounce house for their kids. For example, they would like to rent a great bouncy castle with a slide and climb for the children, or sometimes they need an inflatable obstacle course for the special events. If you cannot offer this equipment, they will just walk away and you will lose a customer forever. If you don't have enough money to expand your inventory, it may be a good idea to consider working with other competitors (or rent from them) and then share the revenue.
7. Not saying "thank you" often enough.
Courtesy is very important in service, saying a lot of "thank you" can help you make a good impression in business. People will like to hear polite thanks and greetings. You should let all people who have helped you or given you advice know that they are appreciated, include your customers, your employees, your suppliers and others.
8. Spend too much money.
When you start to purchase for your business, you must have a clear plan what to buy. Choose the most suitable inflatables, and don't waste money on expensive equipment and fancy gadgets you don't need. Save every dollar.
9. Spend too little money.
Although you have a limited investment, but you still need to buy some useful equipment for your rental business, such as a dolly and cleaning supplies. For the large cost of buying a truck, you can rent a right vehicle at first.
10. Not visiting and participating in the online discussion forum.
Since you have entered this industry, you need to stay in touch with other people who have entered the industry earlier. So that you can learn from them and sometimes get help from them. The forum is also a good place for you to advertise your new bouncy castle rental business.
When you are in a new industry, learn from others can make you easier to be successful, not only learn from other people's mistakes, but also learn from those who have already become successful. Take you time and do your homework first. You can talk Sunjoy Inflatables the professional
commercial bouncy castle manufacturer
and supplier and learn what kind of inflatables are the most popular recently.
Further reading:
Common Mistakes When Hiring Party Jumpers