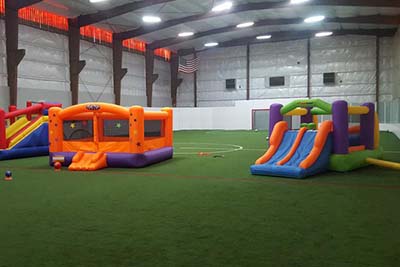 When you start your own bouncy houses rental business, some seniors may told you that you can't rent out your inflatables in rainy days. But when you run your own business for a while, you may find that it's not possible to completely avoid outdoor rentals in rainy weather. Because in some seasons, the wet weather can strike at any time and the weather forecast can be wrong. When the rain clouds gather overhead, the biggest concern is how to keep your little customers safe. If you cancel the reservation at the last minute, then you have to deal with the customer complaints.
Then is it possible to rent out the inflatable in rainy days? Some inflatable rental business owners may ask. As a
professional inflatable manufacturer
, our advice is never try to use a bouncy castle in the rain. But there is still a way for you to rent out your inflatable equipment on a rainy day. Use it indoors!
How to avoid setting up your jumping castles in the rain?
As a responsible rental business, you surely want your customers have a good time with your bounce houses safely. But it's dangerous to use a bouncy house in rainy or wet weather. So you can not do the outdoor rentals in the rain. How about indoor rentals. This is the best alternative to avoid the effects of the weather. Four considerations to make it possible.
1. Establish a good relationship with local venues
When heavy rain suddenly comes, your customers probably don't happy to keep shelter until the end of the outdoor event or the end of the rain. They will likely appreciate the offer of an alternative indoor venue. If you can quickly arrange a solution for your customers, it will show your professionalism and thoughtfulness and helps you get more repeat customers. Therefore, you can look for your local organizations or groups that have large unoccupied rooms. Build a relationship with them as a local party rental supplier and make a contingency plan for adverse weather conditions. And remember, try to contact a few more different venues according to your service area. So you can not only have more choices when one room is occupied, but also can choose the nearest venue based on your customer's location.
2. Invest in some smaller bouncy castles
The first thought in your mind to do indoor rentals must be the smaller inflatable jumping castles. Smaller inflatables can be much easier to set up indoors. Some customers have a big house with high ceiling and spacious rooms and you might be able to remove the inflatable party jumper indoors from outside. This would be a great solution if you have other smaller bouncy castles available when the rain suddenly comes. Keep in mind to ensure your customers understand that some smaller inflatable bouncers are only suitable for children.
3. Keep communication with your customers
You should pay attention to the weather forecast and keep your customers up-to-date if you think that any problems are likely arise. If you have any reason to believe that a storm is coming and you have to cancel the outdoor rental, tell the affected customers what your contingency plans are and see if you can come up with a worst-case scenario compromise. I'm sure most customers will understand the irresistible factors. But they will be happier if you can offer them a good solution before the party starts.
4. Use inflatable terms and conditions
When your customers are booking a bouncy house with you, you must clearly tell them what are your inflatable terms and conditions in bad weather. Make sure they understand the cancellation and refund policy or your alternatives in the rainy days. These thoughtful bad weather policies will not only protect your business from someone who wants to cause you trouble, but also helps you placate a lot of upset customers and establish your company's reputation.
No matter what, you can't use an inflatable outdoors in heavy rain for safety reason. But if the weather forecast predicts a light rain or intermittent showers and you decide to ignore them, you must understand that a rain cover on top won't help a lot. When it starts to rain, all kids must get out of the bouncer and go to a safe place. When the little rain stops, you must wipe the inflatable with a towel to dry it out and let children back on it when it is dry. Even if you are using a water slide, people are also not allowed to stay on it during the rain. Because the rain is usually accompanied by strong winds, and strong winds may blow your inflatable equipment away and cause personal injuries. Make sure your customers clearly understand that you take no responsibility for the use of inflatables in wet conditions and this is strongly not recommended.
At last, you will also need to protect your blowers and generators from the rain. The electrical items need to be in a totally dry location. If your blowers get wet, it will not only damage your equipment, but also may cause electric leakage. And remember, the blowers pull air from the surrounding environment, so make sure they are a good distance away from the drizzle, otherwise you will fill up your inflatable with water can cause mold and mildew growing inside. You not only need to keep the customers safe, but also need to protect your equipment in the rainy and wet weather.