The backyard portable swimming pools are very popular in hot summer, you must keep the child safety in mind to ensure a happy play.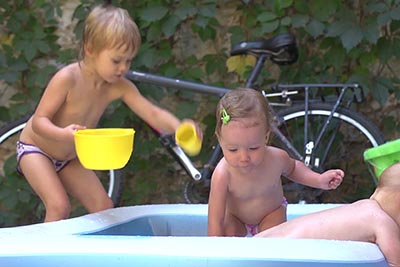 Nowadays, with the development of children entertainment, buying a portable inflatable swimming pool may not seem like a big decision for many families. A backyard inflatable pool for kids doesn't cost much and it's so popular in hot summer. Therefore, parents must be realized that there is a drowning hazard for young children to use a water pool, no matter how deep the pool is. If you have a portable backyard pool or are going to buy one, you may want to read the safety considerations of a portable pool to keep your kids safe.
What is a portable pool?

A portable also known as above-ground pool, inflatable pool, kiddie pool or splash pool. There are two kinds of structures, the inflatable swimming pool that filled with air, the frame pool that made from flexible plastic and a metal frame. The portable pools are available in many sizes, vary in depth from less than 15cm to more than one meter high. With a portable pool in the courtyard, kids and even the entire family can enjoy swimming, paddling or wading to beat the summer heat, and this pool can be turned into a water park with a portable water slide. That's why people love above-ground swimming pools.
Why are portable pools dangerous?

Many parents and babysitter don't realise that young children can drown in a small amount of water and the drowning can happen in seconds. Some people can understand children drown in deep water but don't understand they can drown in as little as 3cm of water. This amount of water is enough to cover a child's nose and mouth. And you must keep in mind that the drowning don't take minutes and you can't hear anything when a drowning happens. If you think you have time to answer the phone, check on cooking or go to the toilet quickly while your kids or toddlers are playing in or around small portable pools, you are wrong! The fact is that kids will not splash, splutter or cry out for help when drowning, they will drown in seconds and quietly. So never look away from your kids when they are playing water!
Who is most at risk?

Children drown in portable swimming pools every year. Statistics show that children under five-years-old are the most likely age group to drown in a portable pool. The young children are naturally fascinated by water and they are unable to understand the concept of danger and may have difficulty in understanding that water could cause them harm so that they can't be very quick to toddle off on an adventure or look for things to climb. When they sit in water, lean over to look into water or reach for an object they can easily topple over and drown in just a few centimeters of water. Therefore, you should keep your eyes on the children at all times when they are in or around the water.
Safe checklist for setting up a portable swimming pool:
1. Fence the pool
In some places there is a legal requirement for the owners to fence their pools if the pool has more than 30cm of water in it. You need to check with your local council or government agency for safety barrier rules.
2. Supervise at all times
Once the pool has water in, you need to actively watch the kids within arm's reach whenever they are in or around the water to prevent anything from going wrong. And no matter how confident you are in the ability of older siblings, it's irresponsible to let them supervise younger kids for you, they may not recognize the signs of a drowning or are too addicted to play with the water themselves and unaware of the danger.
3. Use properly
Don't exceed the number of adults or children the pool can safely hold.
4. Learn what to do in the event of a child drowning incident
if you are planning to have a portable swimming pool for kids in the backyard, you'll need to know how to carry out CPR and it's important to start compressions and breaths right away when a child is pulled from the water, and to call emergency number.
5. Keep the pool in a safe place after use
For large pool, you should close the fence and keep the children out of reach. For smaller pools, you need to pour out the water, deflate and put away when not in use. Never leave an empty pool in a place where it can refill with rain or sprinkler water.
No matter when, the safe play is always the right play. Keep the above considerations in mind when taking your kids to play with water. If you need high quality
inflatable swimming pools or metal frame pools
for your children, family or even your dog, please contact Sunjoy Inflatables to customize a unique and portable pool.