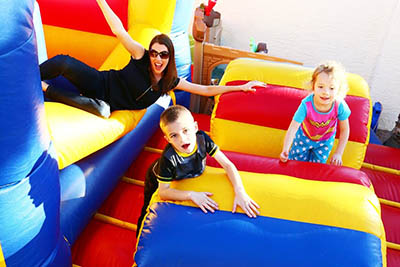 As parents, you want to offer the world's most fun toy for your kids and play with them as often as possible. A bounce house and other inflatable bouncers are the most common outdoor toy for a child's birthday party. Little children can jump and play with peers inside a bouncy castle, but adults can not enter and jump with the children due to the safety rules. If you want to enjoy spending some time with your child while they are playing in a bounce house or an inflatable water slide, there are many inflatable activities that both you and your child can participant in.
1. Create a challenge for your child
For a simple bounce house, there may not be much challenge even for young children. But for an inflatable obstacle course, it's much more challenging and then parents can easily participate in the kid's play. Not only can you encourage your younger child to persevere through the challenging obstacles like a squeeze jungle or a climbing wall, but you can also encourage them to think differently to get along with them. If you want your kids to challenge a military training theme obstacle course, you can time them to see how fast they can finish the entire course and if they can make it faster next time. Or you can challenge your child if they dare to jump off an inflatable cliff. So many different ways for you to get involved in your child's bouncing play.
2. Use other toys
Another way for parents to play with the children without getting into the bounce house is by utilizing other types of toys. For example, you can throw a soft ball to the kids inside a bouncy castle to play the dodge sandbag game, or you can have a water fight outside the inflatable with your kids inside a backyard portable water park, or you can also hide flags within an inflatable obstacle course and have your kids find them to get extra bonus. These creative inflatable games are safe for children and give the opportunity to help the kids develop both physically and mentally with they play.
3. Think more fun bounce house games together
The red light/green light, musical freeze jumping, capture the flag, these familiar traditional playtime
games
are perfect for kids to play in a bounce house. Parents can help the kids come up with more creative ways to apply games they would traditionally play elsewhere to an inflatable jumper. This is a great opportunity for your kids to think out of the box and practice. And let them to play their familiar games in an unfamiliar environment can also help to develop their fine and gross motor skills.
4. Role play with your child
Role play is a great idea for a child's birthday party. There are a lot of different
themes of bounce houses
for the kids, you can pick a unique inflatable jumper for your party with special theme, such as princess, superhero, animals, pirate, etc. A pink bouncy castle or a dragon princess inflatable castle is a fantasy place for you and your child to play the game of Warrior vs. Dragon to save the princess. A green jungle animals bounce house is a best place for the kids to jump like different animals. A giant inflatable pirate ship playground is the best amusement park for kids to start their adventures at sea. This is a happy and memorable parent-child time.
Playtime with your child is a very important party of child's growth and help to build a foundation for a close relationship. It's highly recommended for all parents to play with their kids as often as possible. If you want to create a fun and safe playground in the backyard for your child, please come to Sunjoy Inflatables and select the various of inflatable structures.