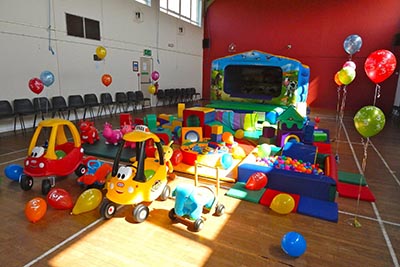 Most parents want their kids to have a great experience and feel special on their birthday, so they will try to invite as many guests as possible to the party. One simplest way to ensure people turn up to your party is to make your party fantastic. More guests means more presents for the child, more social and more fun! This is a birthday party everyone wants. Take a look at the follow tips to make sure your child's birthday party is appealing to everyone.
1. Plan your party at least a month in advance
If you want to do something well, you need to spend enough time on it. Play your party ahead can give yourself more time to prepare and organize everything. More time means you can make a Plan B to avoid your party being destroyed by any factor. When planning a birthday party in advance, one important thing is to determine a date so that your guests can keep that day free but not too distant to forget. This will prevent them from flustering in panic and canceling on you last minute.
2. Send out as many invitations as you can and make sure they are well informed
This is obviously, the more people you invite and then the more people will show up. You can invite all your child's friends and their entire class, of course all members in the family. If you don't want your guests to be confused and quickly forget your invitation, you should send out an invitation for your party with all the details that they need to know, such as:
- The date
- The address of the venue
- Any food to be served
- The appealing entertainment
- Any dress requirements
These information will show the other parents that you are trustworthy and your party is a clearly planned and exciting party, making them more inclined to give their permission for their child to attend. So that you need to pick a date and book the venue as soon as possible, and then send invitations straight after.
3. Make sure you can prepare the food/entertainment/venue in the plan
Before you send out the invitations, you need to make sure you can really prepare everything you write down in the plan. People don't want to be disappointed when they come to your party. For some special food and equipment like a popcorn machine, ice cream maker, a
unicorn bouncy castle
, an
inflatable water park
, a clown or a magician, you should book them in advance like booking your venue. So that these party service you require can arrive on time to make your child's birthday party a great success.
4. Choose a convenient day and a nearby location
It's very important to choose a date that is convenient for most people to throw your party, because if you choose a day very close to annual holidays, then many people will be busy with holidays or family outings. So you need to choose a day that is in a time period where people are less busy, so that they can have time to come to your party and you are more likely to get the bookings you wish for. When booking your party venue, I don't need to tell you to choose the nearest venue available to your local area so that your guests (parents and children) can easily reach and they are more likely to show up.
Follow these simple tips and you are bound to have a bustling party for your child's birthday! Take a look at our various
inflatable party bouncers
to see which inflatable entertainment you can choose for the party.