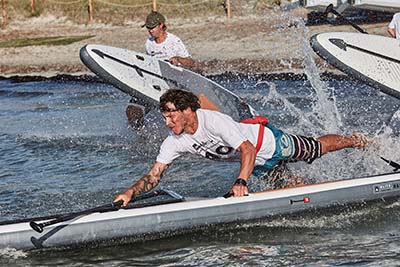 With the improvement of materials and processes, the latest generation of inflatable SUP boards are very strong and versatile nowadays. People should change their misconceptions about the old inflatable stand up paddle boards. More and more professionals and new paddlers are switching from the traditional hard SUP boards like epoxy, fiberglass or carbon SUP to inflatable SUPs. This shows that the inflatable SUP boards can completely replace the traditional hard stand up paddle boards in all aspects. In addition, inflatable SUPs are more realistic for many paddlers' lifestyles, needs and budgets. Let's take a look at the misunderstandings about iSUPs.
1. Inflatable SUPs are only for beginners
Sure the inflatable stand up paddle boards are a great option for new paddlers because it performs very well in all aspects. No matter you are using your inflatable stand up paddle board for calm water leisure, racing, big waves surfing or whitewater paddling, inflatable SUP boards can meet all your needs. For professional sports, there are also more and more inflatable models are chosen by advanced paddlers. The inflatable SUP material is suitable both fresh water and salt water, so that you can use it on lakes, bays, ocean, and rivers. Therefore, we can say that iSUPs are suitable for paddlers of all skill levels.
2. iSUP is hard to inflate
Some people may worry that the inflation process of iSUPs will be troublesome and unlike the hard paddle boards that can be launched directly. You don't understand that the inflatable paddle boards were invented for convenience. In comparison to the traditional hard paddle boards, inflatable paddle boards are very easy to transport and store. The inflation is also very easy, you can do it in 5 minutes. An inflatable stand up paddle board can be packed into a small size and put in the trunk or back seat of your car, you don't have to strap it up tightly on the roof of your car like a hard board. Once you get to the beach, you can take it out and inflate it in 5 minutes and then start to explore the water while others are trying to unstrap and take their boards off the roof.
3. iSUP is not as durable as hard board
The inflatable SUP board material can be almost 1mm thick and basically impossible to damage due to wear and tear. And the air structure is also beneficial for the inflatable board to absorb various impacts. You can drop it from the 20th floor without worrying about damage. Do you dare to drop your hard SUP board from the 20th floor? If you keep the inflatable stand up paddle boards away from the sharp objects, you can expect your iSUP board to be used for many years.
4. Inflatable SUPs are nor performance-based
At some point we can admit that inflatable stand up paddle boards have less performance-based capabilities than hard paddle boards. From some comparison tests we can see that there was only a 5% difference in speed between inflatable and hard SUP boards. The hard SUP boards are much better for surfing because it can catch waves easier, and the air iSUPs are much better for whitewater paddling. So the conclusion is that you can use inflatable SUP boards do anything hard paddle boards can, but each have their own advantages and disadvantages.
5. The same quality inflatable SUPs are more expensive
Some people may believe that inflatable stand up paddle boards can achieve the same quality as hard paddle boards, but they don't believe that inflatable paddle boards can achieve the same quality at a lower cost. In fact, you can often find an inflatable SUP board at a more affordable price point than hard paddle boards. Inflatable SUPs are known for their price friendliness. It's a great first purchase for new paddlers or people with small budgets.
Inflatable SUP boards are suitable for beginners but not only beginners, also for advanced paddlers, they are more affordable but also high performance, it's also more easy to inflate and transport, very convenient for paddlers of all ages to enjoy the water season! Buy more
inflatable water games
and floating water parks from Sunjoy Inflatables.