Best Inflatable Water Slide for Adults
Three tallest inflatable water slides from Sunjoy Inflatables, you can buy the best inflatable water slide to entertain both kids and adults this hot summer.
In July, as the hotter and hotter sun continues to torture us, both kids and adults want to stay in the swimming pool for all day long. The local water park is a great choice for the family. We can have fun with the giant water slides and floating obstacle courses. For the water park owner, you may want to add an incredible entertainment to stay attractive during the long and hot summer season. How about the world's tallest inflatable water slide? This slide is so thrilling that it may not suitable for kids. Not to mention the children, perhaps even some adults don't dare to slide down. But that's why it's exciting! If you are looking for the best inflatable water slide for your summer cool entertainment, please take a look at our following tallest inflatable water slides for adults and kids.

1. 51FT Tall Dual Water Slide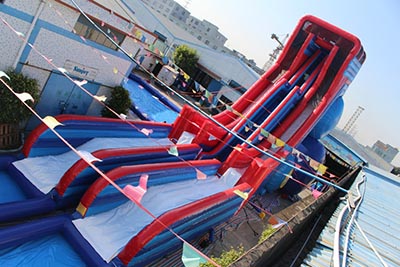 This is our tallest inflatable water slide, measuring over five stories tall. This incredible water slide combines two exhilarating games in one inflatable attraction. The slide lane has over 10 meters vertical drop, and the bottom landing slip N slide is an inflatable kicker to launch the riders high in the air and fall into the water pool. This inflatable water slide combines innovative technology, breakthrough design and high safety standards to offer a thrilling experience for both children and adults.

It's double lane design, so two riders can enjoy the thrill at the same time. The bottom lengthened inflatable slip and slide is actually a long air bag. This technology was originally designed for Hollywood stunts and trapeze artists, but we utilize it at the bottom of the tallest inflatable water slide to make sure the riders land safely. And now it can also provide another fun of flying into air for the riders and allow our designers to create taller inflatable water slides. Two inflatable water pools at the end to catch the landing riders.

2. 44FT Tall Big Hippo Water Slide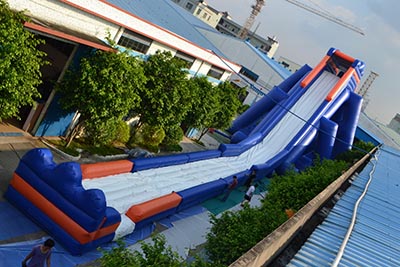 This may not be the tallest inflatable water slide, but you can say it's the biggest inflatable water slide we have. It has a double climbing stair on one side for riders to climb up to the top, and a wide sliding lane on another side to enjoy screaming. And three extended slip N slides at the bottom for safely landing. A tall bumper wall at the end to stop the sliding riders. No splash pool for you to enjoy falling into the cool water, but a super-long slip lane allows you to enjoy every foot of the vertical drop.

3. 40FT Tall Themed Water Slide New Design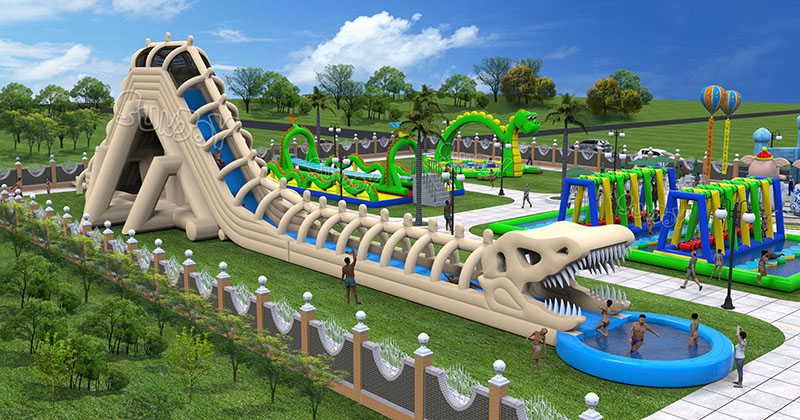 This new design inflatable water slide has a series of different models, for example, you can choose the
dinosaur skeleton design
, or
long giraffe design
, or
python design
, or your
custom theme
and so on. These series of giant inflatable water slides are usually double lane design, tall vertical drop and long slip N slide and a small water pool at the end. These tall inflatable water slides are designed with high side walls to keep the riders safe. Made of our most durable PVC tarpaulin material to maintain a strong structure.
The above three models are our best inflatable water slides for adults. They are big and tall enough to thrill even the biggest adrenaline junkie and also safe for children. Easy to set up and tear down, and you can use them dry during cooler weather. If you want a tallest floating inflatable water slide or other inflatable amusement games, please contact Sunjoy Inflatables to customize all designs.