The difference between a simple bounce house and a jumping castle combo unit, both are great inflatable jumper for children's birthday parties and events.
A birthday party, fun fair, grand opening, church event, school activities, fundraising, or a wedding ceremony are all great
excuses
to rent or buy an inflatable bouncer. You can find any theme and style of the inflatables for all your events from Sunjoy Inflatables. When it comes to the kids inflatable party jumpers, there are two types of jumping bouncers that work best for your celebration: the simple bounce houses and the jumping castle combos. If you want to learn more about the difference, please keep on reading.
The Inflatable Bounce Houses
A
commercial bounce house
is the most common inflatable you can see at the children's birthday parties and preschool playground. The big difference from a combo unit is that they don't have any slides, tunnels, basketball hoops, punching poles. climbing walls or obstacles. It's just a plain area for jumping up and down. A bounce house usually comes with an open front for easy access or a large graphic front panel with a small entrance in the middle for access. These two different designs are suitable for different age groups.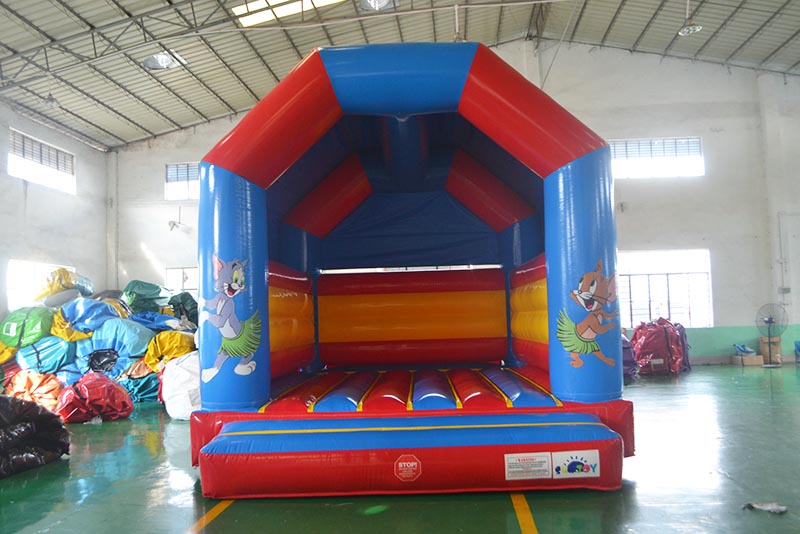 This is one open front bounce house for kids.

You can see that the above open front type bounce house has a larger area for entering. This entrance design is suitable for younger children to assist or allay the child's fears of entering the jump house for the first time, so that parents can hold the kid's hand until they become accustomed to the inflatable. And the open front bouncers usually feature fully inflatable side and back walls which gives children an extra little bit of bouncing fun, parents and operators can supervise through the front side.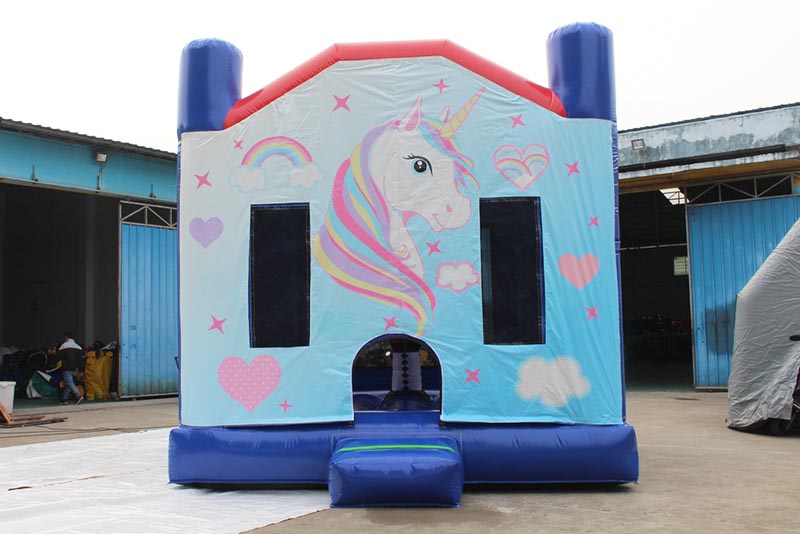 This is one closed front jumping house for kids.

A closed front bounce house internally is the same, the main different is that it has a small entrance on the front with an inflatable step to allow access. This small entrance makes it a little more difficult for larger children and adults to enter and the children inside are not easy to fall out. Since the closed front bounce houses will have a main graphic panel on the front to highlight the theme, the side and back walls are usually designed into mesh netting walls to allow viewing from the outside.

The Bouncy Castle Combos
A combo unit is usually larger than a plain bounce house. As the name suggests, the
jumping castle combos
feature a combination of other activities built into the inflatable to provide more fun and excitement for children. These activities usually include a slippery slide, a climbing wall, inflatable pillars, inside or outside basketball hoop and tunnels so that kids can jump, run, climb, slide, crawl or shoot at the basket to get more adventure. The common 4-in-1, 5-in-1 or 7-in-1 models just indicate how many types of activities are built into the combo unit.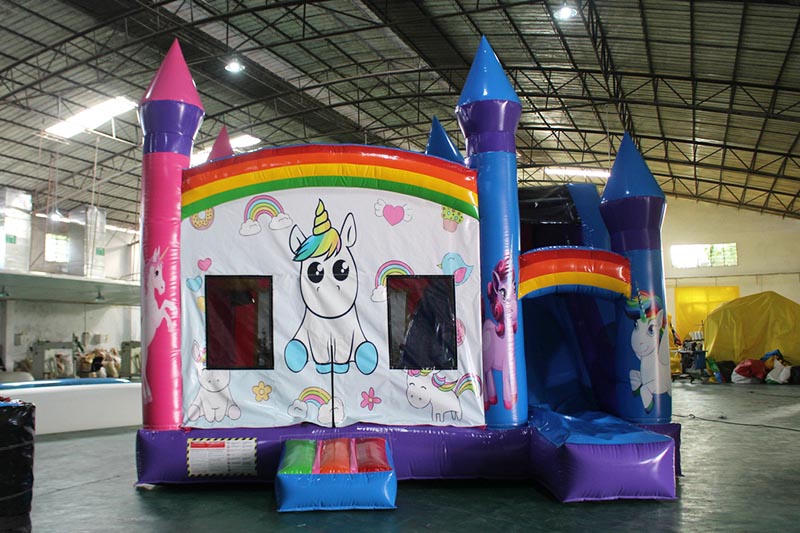 This is one 5-in-1 bounce combo, basically feature all of the additional activities.

The inflatable bounce house with slide combos are still suitable for younger children, but keep in mind that they will need to climb up the stair to get to the top of the slide before they can enjoy sliding.

How to choose the best inflatable bouncer?
When deciding which type of bounce house you want for your kid's birthday party, you need to consider the basic aspects like
selecting the most suitable inflatable
. For example, you need to consider the children's age group and their preference. Both bounce houses and combo castles are recommended for an age range between 3-15 years. By the large, a simple bounce house is as exciting as the combo for 3-7 years old, and this age range may be a little difficult to climb the ladder on a combo. And 8-15 years old may need more excitement for their excess energy.
In addition, you should also need to consider the size, budget and specific theme. Combo units are usually a little larger than a common bounce house, so you need to leave a larger set up area on the party venue. And their rental is also more expensive than a smaller jump house, so take your limited budget into consideration. Both jump house and combo castles can have the same theme like
pirate
,
princess
, jungle, ocean for your special event, so choose on demand.
In conclusion, an inflatable combo is an advanced design of a bounce house, it's bigger, more excitement and also more expensive. No matter you are buying your first inflatable bouncer for the growth of your children or for your new start party rental business, a versatile inflatable combo unit is your perfect choice. Contact Sunjoy Inflatables today to get an affordable solution!