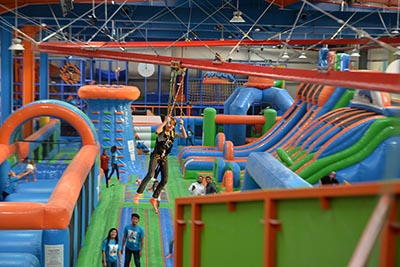 Although the backyard use bounce houses and inflatable water slides are very easy to buy and set up for a family with kids, the commercial indoor inflatable play centers are still very popular nowadays. Many families don't make the decision to invest in a commercial bouncy castle very casually. The parents would rather take their children to the indoor playground every day during the entire summer holiday. So an indoor inflatable entertainment center is still another worthwhile investment besides the party rental business.
However, for the public health and safety, you need to pay more attention to this public inflatable playground than your own backyard jumping castle. A proper cleaning and sanitizing for your jumping playground business is mandatory and extremely important for the safety of children. Let's talk about the proper cleaning requirements today.
1. What are the difference between cleaning, sanitizing, and disinfecting?
Cleaning: The common cleaning for an
inflatable amusement park
and equipment is using soap and water to remove the physical, chemical, and microbial substances from the surfaces.
Sanitizing: Sanitizing is a more thoroughly cleaning, using chemicals and other verified methods to reduce the number of germs on clean surfaces to a safe level.
Disinfecting: Similar to sanitizing, using chemicals to eliminate all of the germs like bacteria, fungi, or viruses.
For a public equipment, you should clean it often and sanitize or disinfect regularly. This is necessary to reduce harmful germs and children's risk for illness and disease. The surfaces of your inflatable bouncers may look clean, but the germs can still be present.
2. Routine cleaning and sanitizing
An inflatable family entertainment center for public should be cleaned and sanitized at the end of each day, and the stained spots should be cleaned whenever and wherever needed. That means your staff should always keep an eye on the dirt and be ready to clean it immediately. All your staff members should be trained how to clean and sanitize the inflatable surfaces, the on-site constantly cleaning during business hours not only ensures a clean playground, but also helps to reassure parents.
3. How to clean the body fluid?
The body fluids like blood, urine, vomit and fecal matter are highly contagious and should be cleaned up immediately. When someone vomits or urinates on your inflatable jumping castle, you should close the entire affected area and clean it immediately. Using soap and water to clean the surface thoroughly, and then disinfect. Read this article to learn the simple
5 steps to clean a bouncy castle
.
Below is a list of do's and don'ts regarding cleaning supplies.
Do's
* Do use mild antibacterial dishwashing soap and warm water to clean the inflatable surface, use approximately 2 tablespoons to one gallon water.
* Do use clean, absorbent soft cotton cloths for cleaning.
* Do use clean and soft bristle brush to clean the seams and stitching, and remove dust and debris from the surface.
* Do use the right and Eco-friendly chemical cleaners for cleaning and disinfecting, like greased lightning, orange blast and simple green. Use the user-friendly and material-friendly special cleaners for your inflatable equipment. Wash and rinse the surface immediately after using to remove any residue.
Don'ts
* Don't use hard bristle brush or metal scraper to clean the stains, it will scratch the inflatable surface.
* Don't use harsh chemicals such as bleach, chlorine or other chemicals that may damage PVC material.
The safety and cleanliness is the most important thing for an inflatable playground, followed by fun. Like the bounce house rental business, you need to show parents you care about the health and safety of their kids, then they will return to your indoor inflatable play center and spread the world. If you are considering to open your own inflatable amusement park, please
contact us
for an ideal solution!