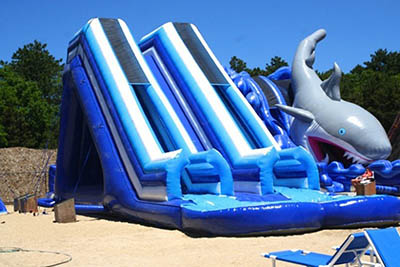 Before we have talked about
how much does a bounce house business make
and
the cost of a mechanical bull
. Today we will focus on the inflatable dry slides and inflatable water slides. In our inflatable slides for sale business, we have a variety sizes and designs of dry slides and water slides, slip N slides to suit different needs. From the smallest one that is suitable for 3 years old to giant one for adults, you can even custom the size and design for your business and special events. The
main difference between a dry and a wet slide
is whether it features with a splash system such as the water hose attachment and water pool.
Most inflatable dry slides and water slides are made of heavy-duty PVC tarpaulin materials, that's what we call commercial grade quality. They are very strong and durable, and heavy, not a perfect option for small family with little kids. They are specialize designed for the party rental business, indoor amusement parks and great events. So you may find it a little expensive for a family to buy this giant inflatable structure. To be honest, even if you buy a commercial inflatable slide directly from the manufacturer, its price will not be less than
$1000
. This may be a bit over budget for a single birthday party of most families.
So, if you don't plan to use this inflatable slide or water slide often, I don't recommend buying one for your next party. However, if you are running an inflatable rental business, or an indoor family entertainment center, or plan to use it everyday in the backyard, then buying will be much more cost-effective than renting. According to the size and design of the inflatable slide you need, the price can vary from
$1,200 to eight or nine thousands
. When buying an inflatable water slide, another factor to consider is whether you need an extra slip N slide for extremely fun. This piece of inflatable will probably cost you
1/3 or more
of the money.
Most of the inflatable water slides will come with a splash pool in addition to some special water slides for swimming pool. So you don't need to worry about the cost of the pool unless you want to change to a larger inflatable swimming pool or metal frame pool. Just contact us and send your requirements to get an affordable quotation.
Most people will need to rent an inflatable slide or water slide to celebrate their kid's birthday, this only a few times or even once a year. For inflatable dry slides and water slides of the same size, the rental price will not be much different. And most of the inflatable slides you can rent from the party company are regular sizes which vary from 14ft to 28ft. You basically won't find super huge inflatable slides in the rental companies that only appear in amusement parks.
For the regular
inflatable dry slides
and
water slides
, according to our research, the cost of inflatable rental ranges from as low as
$120 per day to $400
per day, depending on size, type and duration. The extra inflatable slip N slide for a water slide will increase the rental cost by about
1/3
. Overall, the rental cost of an inflatable slide or inflatable water slide is slightly higher than a bouncy castle. It's a good option for any parties and events.
From the above you can see that a commercial inflatable slide will pay for itself after ten rentals. So if you plan to use an inflatable structure over 10 times in one or two years, buying is your best choice.
Contact Sunjoy Inflatables
today to look for the best package of inflatables for your events or business.
Extended reading:
How to maintain your inflatable slide cover?