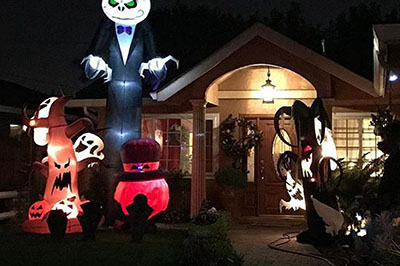 There will be many festivals to celebrate in the coming months such as Christmas, Halloween, Easter, etc. During these merry holidays, nothing is better than a giant inflatable decoration in the yard can show the owner's excitement and happiness about the festival. These yard inflatables come in a variety of shapes, styles, sizes and colors, so everyone can find the most suitable and unique one to decorate their front door. However, we know that these fan-powered inflatables can be inflated and kept outside during good days, should I deflate them when it rains? This is a common question to many holiday inflatable decorations owners. Let's talk about this.
A customer once told us that they left their yard inflatables deflated during one rain and they ended up covered in mud and they have to clean the inflatables off by hand, so they ask for advice how to handle the inflatables during rains. Most of the inflatable decorations are listed as being for outdoor use so they're supposed to be able to handle the rains, that's why some experienced users keep their yard inflatables running 24/7 for the whole month without deflating. Inflating the inflatables during a rain will allow the water run off rather than pool, and the air pressure inside can also prevent water penetration through the fabric. However, one thing you should keep in mind is that don't forget to use a tarp cover the blower to prevent it blow water into the inflatable and cause mold spots later.
The following are our recommends:
1. Yes, the inflatable decorations can be used outdoor during small rains.
Nowadays, the inflatable decorations are getting bigger and bigger, they are available in many sizes for the holidays. Most of them are made of the high quality waterproof PVC coated nylon materials which means they can withstand water and snow. According to the designs, their internal fan also come with weather-resistant components so it's perfectly acceptable to operate these inflatables during light rain or snow. But, for the best performance, you should keep the yard inflatables out of low-lying areas where rain puddles over time.
2. No, the inflatable decorations should not be used in storms.
During severe storms or high winds, you have to consider the safety of your inflatable decorations. Since some inflatables can be really huge, so you need to make sure that it's anchored to the ground firmly in case it is blown away by the wind. Besides, the rate of water rise in the rainstorm can be vary fast, you should also make sure that the electric blower will not be flooded and cause serious damage to it. The best way to keep your lawn inflatables safe during stormy weather is store them inside. If you have to leave the holiday inflatables outside during severe weather, make sure they are not working and move them somewhere where it can drain and dry completely. You can plug in the unit to allow the internal fan to help further dry the material.
3. Yes, the inflatable decorations can withstand light snow load.
Because of most holiday inflatable decorations are used in winter, so the inflatables are made to withstand light snowfalls. The inflatable decorations are withstand freezing temperatures no more than -14 degrees Fahrenheit. However, it's not recommended to use these inflatables outside for several days of heavy snow because it may be frozen. If your decorations are deflated and left outside during a winter storm, it should be completely thawed before re-inflating.
To give your custom inflatable decorations a long life, you should dry them completely before off season storage. This prevents mildew growth on the material and keeps it fresh for next festival's use. If you still don't have any great and appealing inflatable yard decoration for the upcoming Halloween and Christmas, please contact sunjoy to get an ideal solution about these high quality
customized holiday inflatables
.