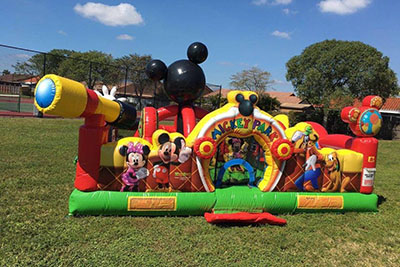 Inflatable bounce houses are getting more and more popular these days, especially for families with kids. Most people don't
buy a commercial bounce house
very often, and don't even know how much. Basically, parents usually search the phrase "bounce house rental near me" on the Internet to find the best rental company to help their kid's birthday party. However, if this is your first time to rent a bounce house for your party or event, it's important for you to know the considerations when renting a bounce house to ensure a smooth process. The following are the recommended must-do checklist:
1. Make your rental decision early
Make the bounce house rental decision is as important as you make the birthday party plan. Usually you need to call the local party rental companies at least a month in advance if you want a wide variety of inflatables to choose from, make it two months if you can. Schedule this thing once you determine the number of children you're going to send the invitation. If you wait until the week of your party, it will be very tough to find the best inflatable moonwalk jumper you like. Everyone is having their party on the weekend, so you're probably going to have to choose from a very small inventory. Don't take risks, do it as early as possible.
2. Get it delivered and set up
When you first see the large commercial bounce house you rent, you may be surprised by its weight and size. Unlike the home use residential bounce houses, each commercial inflatable weight at least 200 pounds and you can imagine how difficult for you to take it home and set it up yourself. So it's better not to skip the delivery. The rental company have the trained staff and strong tools to get this done, must more easier than you and your friends to do this. Therefore, pay the delivery fee and you will enjoy the party so much more.
3. Ask about the delivery fees
Since you choose to pay the fees for the delivery and setup, the next thing to do is ask the delivery fees to your location. Most party rental companies will include a delivery fee in the cost of the rental, but not all of them do, especially when the rental cost is particularly lower than others. Discuss this up front so there are no surprises when you're dealing with other stress from the party. You may be able to bargain with them if delivery is a separate charge. Tell them that another company will charge less for delivery, and sometimes they'll lower the price.
4. Double check the delivery time
It is important to double check the delivery time with the rental company. Nothing is worse than disappointing your child on their birthday. So you need to call the rental company about a week before the party to ensure that your bounce house will be delivered on time. If any issues come up, you still have time to get this right.
5. Understand the cancellation terms
If the rental company cannot deliver in time, you can change to another company. However, if you want to cancel the reservation before the party, you need to understand how the cancellation policy works. Ask the company if there are any fees involved. On the another hand, you may also want to know what conditions would allow the rental company to cancel your reservation and what compensation will you get.
6. Get your yard ready
As a professional bounce house manufacturer, we can tell you that one of the most important thing to set up your jump house is to have a safe and flat area. You need to clear your yard for an available space and a wide path to the area. The size of your space determines the size of your bounce house, and the path to the area is convenient for the delivery guys so that you don't have to wait.
Nowadays, no matter renting or buying a bounce house for your kid's birthday party are very easy. Like many other products, renting is cheaper for one-time fee, and buying is cost-effective for long term use. So that make your choice wisely. Sunjoy Inflatables is a big factory from China supplies
commercial grade inflatable bouncers
such as bouncy castles, combo units, slides, obstacles and interactive games. Contact us to buy a unique inflatable moonwalk for your kids.