The benefits of using giant inflatable cartoons for outdoor marketing and how to set up and take down an advertising inflatable.
Nowadays, people are always busy and no one cares about the numerous advertisements on the street. As a business owner or marketer, you may find that it's more and more difficult to make your advertisement stand out in the crowd, especially with a very limited budget. Don't worry, with the help of a 10 meters tall replica of your product or mascot in the form of advertising inflatable, you can actually stand out and seize attention at a much lower price. This has proven to be a cost-effective and attractive way of being noticed in the world of various mediums. Let's see why you should choose giant inflatables advertising.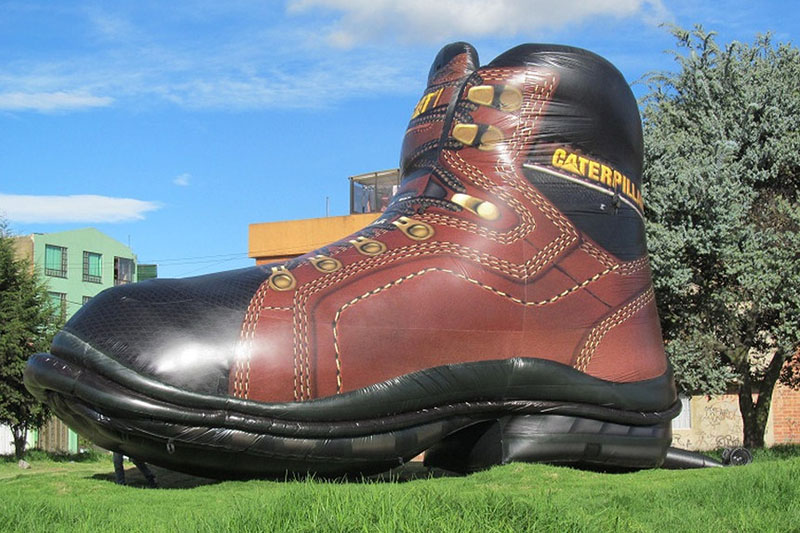 How giant advertising inflatables promote your business?
1. Giant inflatable advertising can be a huge hit
One great benefit of using these giant inflatable advertising is that they are perfect for the stores in remote locations. If you feel it's hard to find your store, you can set up one advertising inflatable cartoon atop your roof to catch attention. Most of the inflatable advertising use up the space vertically, so they can be up to 70 feet tall and thus are visible from a distance of 500 yards.
2. Giant inflatables are also very entertaining
Another benefit of advertising inflatables is that they are not marketing in the form of advertising but in an entertaining way. For example, if you place a large
inflatable Santa Claus
in a shopping mall for Christmas promotion, the kids will never miss such a cute inflatable cartoon. Even if the parents miss it by chance, which is a very rare possibility, the children will make sure that their parents take a glance.
3. Inflatable advertising are perfect for fun events
Giant advertising inflatables come in various forms such as custom mascot, football tunnel, inflatable archway and tent. For example, in a sports event you sponsor, you can use the custom inflatables to advertise your company. With the unique and eye-catching shapes of giant inflatables, you can easily grab the attention of the media without much effort.
4. Giant advertising inflatables are easy to use
Unlike other forms of outdoor advertisements, inflatable advertising can be used without taking permission from anyone. They can be easily deflated and folded for transportation and storage, and they would not make a hole in your pocket. Even a super huge advertising inflatable will not cost you a lot of money. Both large and small companies can use them for promotional purposes. From a business perspective, these help in saving money which can be invested in other aspects of the business.
How to set up and take down a giant advertising inflatable?
1. Find a flat and clean space for setup
The inflatable products generally come rolled and tied to keep them compact, so you need to find a safe place where it can be unrolled. The venue to set up an advertising inflatable should be clear of all sharp objects such as nails, broken glass, low branches, etc.
2. Take out and open the inflatable
A giant advertising inflatable package can be very heavy and difficult to move, so you need to be very careful. Take it out from the package bag, unroll the inflatable and unfold all the extra parts. Organize the item exactly the way you want it to be positioned.
3. Start to inflate
Close all the zippers and vents, attach the air blower to its tube, make sure they are securely connected and without any gaps. Then plug the blower in and turn it on. It may take a few minutes to achieve complete inflation depending on its size. This may be a little difference from
the use of helium advertising balloons
.
4. Anchor to the ground
Once the cartoon is totally inflated and firm, use hammer and stakes for nailing down the inflatable at each anchor point. If you use straps, make sure that all straps are taut and no one will trip on them.
5. Take down the inflatable
At the end of the day, turn off the blower and disconnect, take out all the stakes and allow the inflatable cartoon to deflate by opening and unzipping the vents.
6. Fold and package
When the advertising inflatable gets fully deflated, fold all the extra parts towards the center and fold the fabric in a suitable way according to its size, walk on it to squeeze out the remaining air. Once you are sure that there is no air left inside the inflatable, continuous fold and roll it as tightly as possible and secure it with a ratchet strap.
Advertising inflatables
are the best way for business owners to create big outdoor marketing. One inflatable advertising cartoon is available for customization, so you don't have to purchase a lot of advertising inflatables for the beginning. Just contact Sunjoy Inflatables and tell us your requirements and we will come out with a perfect solution for you!