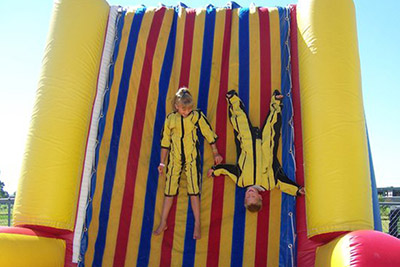 An inflatable Velcro sticky wall is a fun interactive game for any parties and events. The bounce houses are very common in the entertainment industry, and the Velcro is more common in our lives. Yes, this normal material that used on kid's shoes and clothes. How did these two things combine at the beginning? if you want to know the history of Velcro and how this material be used in the inflatable industry, please keep reading this article.
1. The invention of Velcro
I'm sure many people should have experienced the burrs harassment in the wild. The Swiss engineer named Georges de Mestral, he invented Velcro one day after hunting in the Jura Mountains. Yes, there were a lot of burrs stuck on him after he came home. So he was wondering if he could create something that can stuck to each other like the burrs do. And he eventually came up with Velcro. This name comes from combining the French words for velvet and hook and patented in the 1950s.
2. The popularity of Velcro and NASA
Did you know NASA popularized the use of Velcro? On the Apollo mission in 1969, astronauts used Velcro to attach to items they didn't want floating away in zero gravity. That include pens and notepads and anything else they didn't want to chase around the capsule. Many other people watched it in use. So the medical staff began using it on blood pressure monitors and automobile makers started using it to attach mats to floorboards. Fashion designers began using it, too. By the late 1960s, Puma started offering shoes with Velcro fasteners. Things took off.
3. The invention of Velcro Sticky Walls
In 1984, late night talk show host David Lettermen interviewed the chairman of Velcro Co.'s United States division. The whole thing was a great set up for what happened at the end. Letterman, wearing a Velcro-covered suit, jumped off a trampoline and landed on a Velcro sticky wall. Soon the Velcro walls popped up everywhere. People loved to leap off a trampoline and attempt to land upside down on the wall. This kind of entertainment quickly evolved into a fun content and popped up in bars from New Zealand to New York City. The New York Times even wrote an article about this phenomenon in 1992.
If you have to ask why so many people like this entertainment. I can tell you that there is no why, just because it's neat and feel like parachuting in reverse. In the early days, people still need to bounce from a trampoline to play this Velcro wall game. With the development of bounce houses, now you can just launch off an inflatable platform to enjoy both fun of bounce house and Velcro wall. One more step you need to do than to play on a bounce house is to wear a special Velcro-covered suit.
The new
inflatable Velcro wall
interactive game is all as fun as it was many years ago. And with the popularity of inflatable party jumpers, this inflatable sticky wall can certainly liven up your parties and events just like other inflatable bouncers do.
In addition to the Velcro walls, we also have many fun interactive games to entertain you and your guests at the party, such as funny fatboy sumo wrestling game, inflatable bungee run and hungry hippo chow down, mechanical bull, leaps N bounds, rock climbing wall, inflatable foot dart, human whack a mole, bubble football, etc. Come to
Sunjoy Inflatables
to find a new and fun way to spend your big day and night!