We all know that sport activities are beneficial and essential for kids and teenagers, that's why schools have sport included in their weekly curriculum. However, not everyone likes sports due to the fun or physical reasons. Someone just don't enjoy running around and kicking a ball. For this case, you may want to know if there is a way for people to enjoy sport without worrying about the competition and safety. The giant sporting inflatables are exactly what you need here! Both kids and adults can have fun with the interactive sport games safely. They are great addition to any parties and events. Let's see what you can get for your next event.
1. Giant inflatable dart board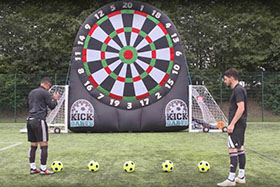 Many people like to play a quick game of darts with their friends at the bar. Have you ever played a giant inflatable dart board 20 times the normal size? You can hit the inflatable target with the small sharp darts you normally have at hand. This huge velcro board is used for kicking a soccer ball and practice your aiming skill by foot. All you need to do is kick your soccer ball about 5 or 10 meters away from the board and score points. The ball will stick on the giant velcro board. This giant foot dart game can be set up indoors or outdoors, suitable for schools and families.
2. Inflatable basketball court
Basketball is in fact a high risk sport. Many kids are afraid of to try a slam dunk with a small trampoline on the basketball court. However, with this giant inflatable basketball court, you can practice the slam dunks and try other dangerous jump shot without worrying about landing on the hard floor and get hurt. The soft and bouncy basketball court will give you confidence and protection to try it out. Children can play some mini basketball games or just run and jump on the court to reap the health benefits.
3. Inflatable boxing ring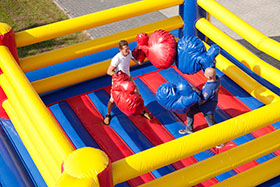 Boxing is another fun but dangerous sport, not everyone can take the pain of boxing. However, with this inflatable boxing ring and giant boxing gloves, everyone can be a boxer. The inflatable boxing ring and soft gloves can keep you safe, and the giant gloves will probably imbalance your form, so the boxing game can be extremely funny. Even the kids can enjoy the sporting exercise and laugh till the lung gets sore. Ideal for a backyard birthday party or a bucks night for boys.
4. Inflatable bungee joust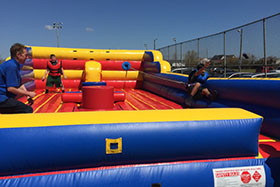 How about bungee jumping and gladiator jousting sports? You can enjoy both of them with this inflatable bungee joust game safely. It's the combination of bungee run and gladiator jousting. Two participants will be strapped into a harness connected to an elastic cord and hold a soft jousting stick. You have to fight the elastic cord with your core strength and beat your friend with the stick to win. This sport can be quite tough, but it's a really cool way to encourage kids to have some healthy competition.
These fantastic and interactive sport inflatables are perfect for birthday parties and events, provide fun for kids and adults and encourage healthy active lifestyle. There is no other way to combine play, sport and safety like the interactive inflatables. If you are interested in buying more sport themed inflatable games and other jumping castles and slides, please contact Sunjoy Inflatables.