Are you thinking of buying a new jumping castle for your kid's upcoming birthday party or few inflatable bouncers for your party rental business? Everyone wants to choose the best quality with best prices so they search the bounce houses manufacturers and suppliers from all over the world. China manufacturers are known for their high quality and low prices. However, some people often end up paying more than their initial budget because they don't know how to buy the best products for the best prices with best warranty. Therefore, this guide will help you to be experienced and purchase the best inflatable products from Chinese market like a professional.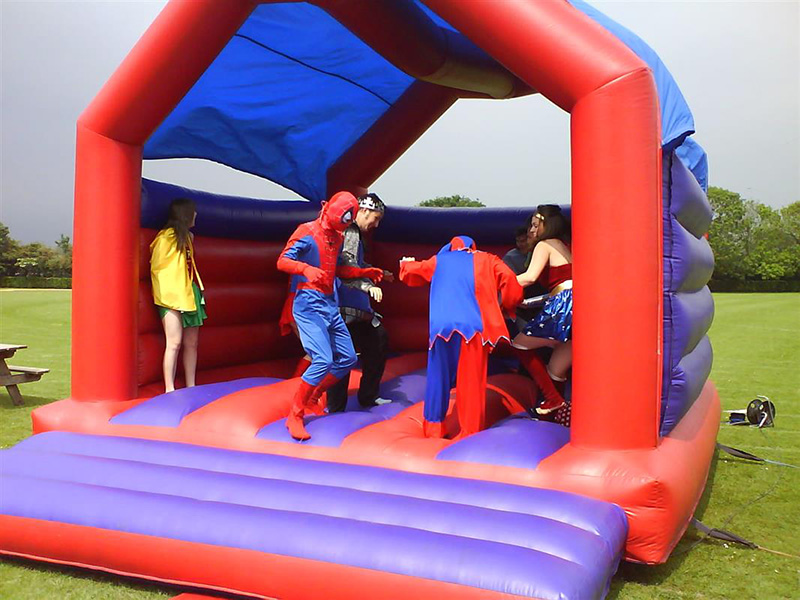 1. Know the difference between commercial and residential quality
When it comes to inflatable bounce houses, there are two kinds of inflatable products in the market. You should learn
the differences between commercial grade and residential grade inflatable moonwalk jumpers
first.
The commercial grade means the bouncy castles are made out of commercial quality heavy duty PVC tarpaulin material. These inflatables are extremely durable, usually used for large events and you can expect for a life span of at least 5 years. Sunjoy Inflatables specialize in manufacturing commercial inflatable play structures for over 13 years, most of our clients are large event organizers, party rental business owners, indoor play centers and amusement parks.
The residential grade means the bounce houses are designed and manufactured for private used, not suitable for commercial used. This kind of inflatable products are made out of nylon or oxford clothes, very light in weight and very fragile in strength. Only suitable for kids under 6 years of age and the average life span are 5-6 months. Therefore you can find these for a very cheap price in the market.
2. How to find reputed bounce houses manufacturers online
The most simple way to find manufacturers and suppliers for your bounce houses rental business is by using google. You can find hundreds of jump house suppliers online by searching the words like "
commercial bounce houses wholesale
". Go on to their website and browse all the pages from the menu. You can simply determine whether this is a good company from their
supportive information
. If they offer a
blog
and updated it recently, then it looks like a trust worthy company. Another way to find suppliers from China is by using alibaba. Most Chinese manufacturers are using alibaba, but not all of them are good at SEO. So you can search their website to check out their information about the products after you get a company name.
3. Get list of inflatables suitable for your budget and need
Most reputed companies are reluctant to send full list of prices, so it's not recommended to ask your suppliers for a full price list. Their website is the product list. The best way to make them believe you are a real customer is to give as much information as possible about your needs and budget. This will help you to save your time. Choose your desired ones from their completed models first, then ask if they can customize some unique designs for you. After confirmed all the details of your options, they will offer you a quotation of prices. You can give them a call to bargain for a better discount.
4. Make sure the quotation includes every cost
This is very important when you are purchasing from overseas factories. Sometimes the shipping costs can be unexpected high and finally ends up paying far more than a domestic supplier originally quote. In addition, the electric blowers are usually not included when you purchasing a bounce house from China factory. So make sure your supplier quote the price including each and every cost. Sunjoy Inflatables can guarantee to provide you a competitive price that it won't be more costs than you purchase from other inflatable castles suppliers.
5. Make sure you get the high quality products
The high quality we are talking about here is not about the difference between commercial and residential bouncy castles, it's about the difference between Sunjoy Inflatables and other companies. For the same jump house, you will find the pictures are similar and wonder why not buy the cheaper one from another supplier which is only cheaper by 100 dollars. The hard truth is far beyond of your imagination. As the saying goes, you get what you pay for. Different factories use different materials, from the commercial grade PVC fabric to the small D-ring in the anchor points. You should choose the supplier that never cut corners to decrease the cost of the product.
Sunjoy Inflatables
guarantee you we use standard materials for all our
inflatable products
, and will only cut corners according to your requirements to decrease costs. That's why not every model of our inflatable bouncers has the market advantage in price comparing with other China factories. We are here to help customers find the best balance between quality and cost based on their budget.