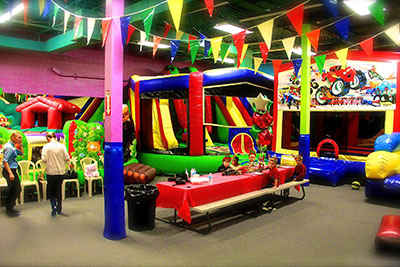 Last time we have talked about
how to choose the perfect bounce house rental company
and
what to look for before renting a bounce house
. Now it's time to actually rent a bounce house and give your children a wonderful birthday! As parents, we are always concern about the kids safety when they are playing. For this giant inflatable jumping house, we should also do some homework to make sure our kids have a fun and safe experience. Here are some necessary things to do.
1. Adult supervision.
Parents or operators should always keep and eye on the kids when they are bouncing inside a bounce house. You must not set up a bounce house then just let the kids there play by themselves. The inflatables need to be supervised at all times. An adult supervisor can keep things under control and make sure no child gets hurt. If you want to learn more, please read this article "Supervision Makes Your Inflatable More Safe".
2. Group children by age groups.
Kids can easily forget all the safety rules when they are jumping around with excitement. That's why the older kids will not remember to make sure everyone is playing safely inside a bounce house. This is the place requires parents to pay more attention. A simple way written in safety rules is that divide the kids into different groups according to their ages and sizes. You can learn the details by reading this article "
Why Kids of Varying Sizes Can Not Bouncing Together?
".
3. Do not overload.
Every inflatable has its load limit, one important thing to have fun safely is not overload. You should ask the rental company how many kids can play this bounce house at the same time then don't let too many kids inside at the same time. With a proper number of kids, every child can have enough space to jump around and not easy to get injury from others. In addition, too many kids could also cause the inflatable structure to malfunction.
4. Check if it is damaged.
When you are choosing the bounce house at the rental company, I'm sure you have asked if the bounce house is in good condition. But when they delivery this bounce house to you, you should also inspect it again. If you can any damage on the bounce house which might cause children injuries, don't accept it at all. This is important and you should make your request when you place an order.
5. Check the cleanliness.
Before you rent a bounce house, you should ask the rental company if they will clean and sanitize after each use. No doubt they will answer you "Yes". But you should check it with your eyes. You do not want any germs or other unpleasant things on the bounce house when your kids are using it. If you are not sure, you can the delivery person to do a quick cleaning.
6. Keep an eye on the weather.
The weather may change at any time so you should pay attention to the weather. As we all know, inflatable units can not be used in bad weather for safety. When the storm or strong wind comes, get everybody out of the bounce house and put away the electric blower. The rain could cause the bouncing floor to become slippery and the strong winds could blow the bounce house away. You don't want this to happen when your kids inside.
7. Check the stability.
An important thing you need to do is check the stability after the bounce house is set up. Usually, a commercial bounce house should be placed on a flat surface and secured by steel stakes or sandbags. The bigger the bounce house, the better the stability. So a commercial bounce house weighting at least 300 pounds is good enough for your kids.
8. Check the sharp objects.
According to the safety rules, you should check the kids to make sure that no sharp objects are brought into the bounce house. The sharp objects are not only a safety risk to children, but also can cause the inflatable structure to tear and deflate. Take off your kids shoes and let them jump around with socks on. All kinds of unnecessary things, such as jewelry, clocks, glasses, pens, keys, foods and drinks should not be taken into the bounce house.
Now you know how to let your kids have a safe and fun experience with a bounce house, you may start planning your child's next birthday party or summer fun party now. More questions about the bounce houses and other party jumpers please don't hesitate to
contact us
, Sunjoy Inflatables is a professional bounce house manufacturer and willing to help people working with inflatables.