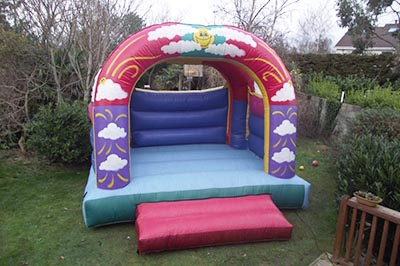 If you are still looking for the best bounce house for your kids, you need to ask yourself a few key questions to find out which inflatable is perfect for your family. First, how old are the kids? Second, how many kids? Third, what extra features do you want? Fourth, what's your budget? No matter which inflatable manufacturer you choose, these questions are the guidelines for selecting the best inflatable castle.
1. Buy the perfect bounce house for the specific age group
In the bounce house industry, many inflatables have their age restrictions. You can read this article to see
various inflatables for different age groups
. When it comes to the simple bounce house, the residential grade bounce houses for indoor use are perfect for children under 6 years old, like toddlers. And if your kids are between 6 to 13 years old, then a commercial grade bounce house or a jumping castle combo unit is the best playground for them. This is one
difference between commercial and residential bounce houses
. You know, bigger bouncers will bring more games and fun for the older kids.
2. Are you going to use it for daily entertainment or parties?
If you just buy this jump house for the happy growth of you kids, then a smaller inflatable in your backyard is perfect for your needs. However, if you plan to use it at parties, you better take the feature parties and events into consideration. I can tell you from experience that a small bounce house for three kids is not suitable for a fun party. A big bouncy castle is the best place for you to entertain many kids at your party, so that you won't end up with the chaos and frustration. A larger inflatable is always more fun than a smaller. And you will probably regret buying a small model when you want to use it to throw a party in the feature.
3. Combine all the features you like
In addition to the simple bounce house just for jumping up and down, there are plenty of advanced features like slide, obstacles, basketball hoop that may draw your interest. No matter what features you like, we can combine them to your
jump house combo
unit. For example, your kids may like more challenges in the bounce house, then you can custom a basketball hoop, some obstacle tubes, a climbing wall, a slide and even a ball pit or water pool. These combinations can basically fulfill all your needs. Of course, more features mean higher costs, which leads to the next question.
4. How much money can you afford for this inflatable jumping castle?
In any case, budget is definitely the most important factor in buying anything. Your budget determines which inflatables you can get for your children. If you find a new model that really fits your kids and family, you may want to raise your budget slightly. This is very common when shopping. So if your budget is very limited, you may can only go for a smaller residential bounce house without any features. Anyway, a larger budget can always have more and better options.
In addition to the bouncy castles, you can also go for many inflatable equipment, like inflatable slides, water slide, portable water playground, large inflatable amusement park, inflatable obstacle course and various interactive inflatable games. Click here to see
the guide to the best adult inflatable water slides
.